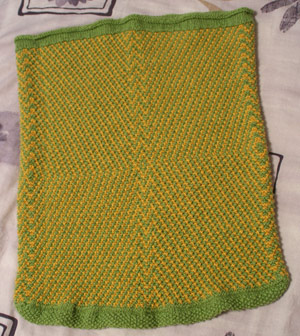 As if I wasn't already crazy enough about Hempathy, laundering the bag really sealed the deal for me. Wow. It is so soft, the stitches are so even, and somehow the fabric manages to be substantial, yet pliable at the same time.
After washing in warm water and tumbling on low, the material shrank by about an inch in both directions. I kind of expected it would – it's mainly cotton, plus I think I must've read that online somewhere ;).
I was also expecting that after washing, the bag would take on a more rectangular shape. This was not so much an expectation as wishful thinking, because there really wasn't a single reason why this should be so. Sure the bag looks rectangular in the book's photo, but that's achieved by sewing gussets, not the way the fabric is knitted. And I did add the rectangular bottom, but it doesn't have enough substance to force a different shape to the rest of the bag. And, yes, the pattern has four "transitional" regions, two of which end up being at the sides, but they don't have any special features to cause a fold and naturally become "sides."
I don't know what I was thinking… why I believed laundering would magically transform the fabric. It didn't. Let's try that again!
Taking a step back and examining the actual results in front of me, it was clear that The Bag wanted to be nothing more than… a tote! Just two sides, not four! I took out the bottom, and joined the two sides using a three-needle bind-off.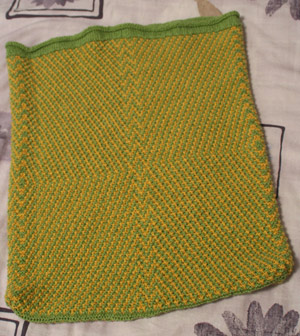 Yup, just like that! I'm so much happier with how things are looking now. I did stitch tiny gussets in the corners, just to round things out, not so much to alter the bag's shape.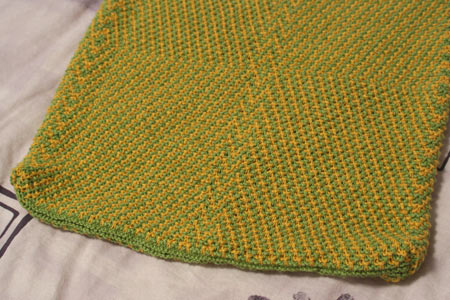 Now I think I'm ready to tackle the fabric lining!
0
likes