A few months ago I bought a Stargazey Heartz quilt pattern on eBay. I think Heartz is my favorite of all Jan Mullen's patterns, so I was excited to find a gently used copy on eBay for super-cheaps.
When the pattern arrived, I was surprised to find cut squares of fabric included in the package! There were approximately fifteen 6″ X 6″ cotton squares, mainly in the green, blue, and yellow families. Apparently the seller had started cutting fabric for the quilt, and was now getting rid of the whole project – pattern and squares together.
There was also a dollar bill tucked into the package. You know my penchant for saving receipts? Take a look at the explanation: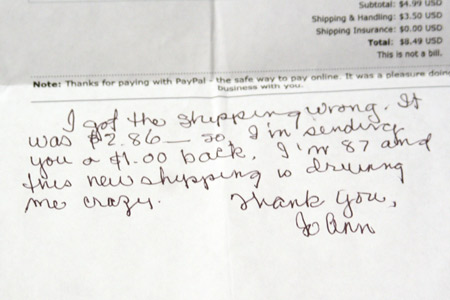 Incredibly sweet, isn't it?
Anyway, I put the squares and the pattern away, and didn't think of them again until last night, when I went on a stash-ette expedition.
You see, I had just received Joelle Hoverson's newest (gorgeous!) book, Last-minute Patchwork + Quilted Gifts
, and had to sew something from it right away. Because, well, resistance is futile. Sew. Right. Away.
One of the projects I had originally seen on the purl bee seemed like it would match my sewing craving perfectly: the puzzle ball!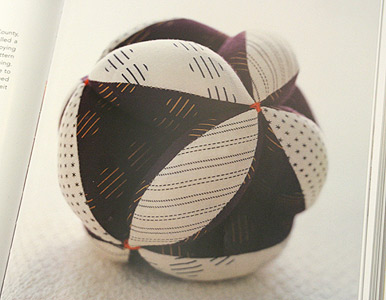 As I looked through my collection of cottons, I came across the Stargazey squares. Looking at all the squares side by side, I realized that they went very well together. The person who chose them clearly had an awesome sense of color, and I felt no shame in taking advantage of her expertise.
I decided to pull the yellows and dark greens out of the pile, because the puzzle ball somehow reminds me of a frog. Without doing any work, I had great fabrics, colors that went well together, and to seal the deal, the squares were already cut to the right dimensions! Yay!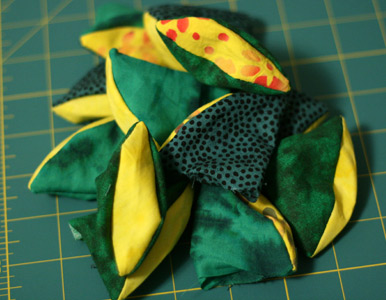 Just like that I'm more than halfway done ;).
Oh, if you're going to make the puzzle ball and are struggling to find something with a 5.5″ diameter, my CD spindle proved to be the perfect size ;).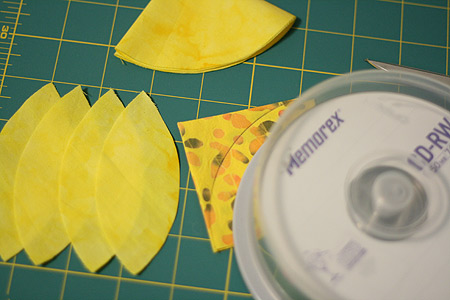 0
likes