Joy of joys, I have finished knitting my bag!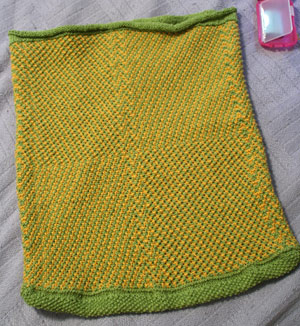 I really didn't know when this day would come. As much as I loved working with Hempathy, and as much as I loved the simplicity of this pattern (an excellent sock alternative, in my opinion), it took a long time to whip up a 14.75″ wide and 17″ tall bag. It's a whole lot of stitches. But today is the day I cast-off the last stitch!
To get here, I had to do a bit of finishing work in preparation for the lining.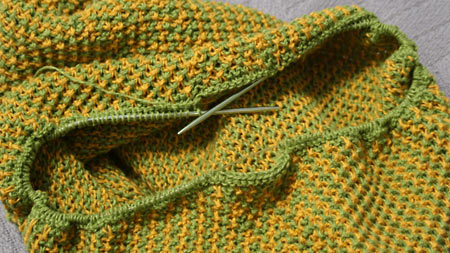 Once I was done knitting the body of the bag – which is nothing more than a giant tube knit circularly – I knit (well, purled, technically) a turning row and cast off the stitches which will become the short sides.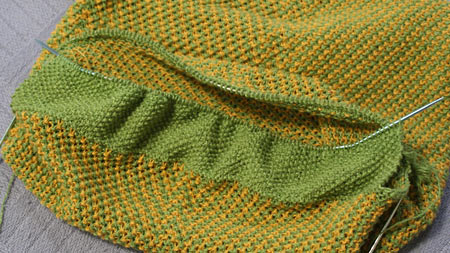 I knit a rectangular flap emanating from one of the long sides. This is the bag's bottom, and I chose to knit it in seed stitch because it resembles the main stitch pattern.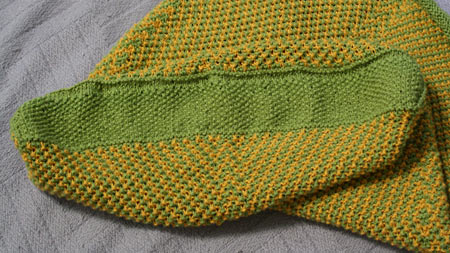 I grafted the live stitches at the end of the flap to the other long side. Then using the blanket stitch I closed up the short sides. This created a rectangular bottom for my bag, similar in construction to that of Corded!
Moving to the top of the bag, I decided to knit a 1.25″ facing which will act as a stabilizer (more about that later). First I removed the provisional cast-on, then joined a new ball of yarn, purled a turning row, decreased about 10% of the stitches (so that the facing tucks neatly inside), and knit even for about 1.25″.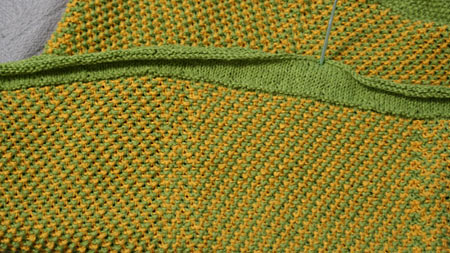 I bound off all the stitches, wove in all the ends, but before I start the lining, The Bag has to take a trip through the washer and dryer. This will allow the fabric to even out, soften, and take on its final size.
Next I'll tackle the sewing part of finishing The Bag… though it probably won't be the very next post (depends on when I get the chance to wash it). Stay tuned!
0
likes