Oh, Chuck, you are finally mine! Wood grain fabric, finger guns, flowery details, and all! The Open Studios were (expectedly) fantastic, Maritza's collection was (expectedly) fun and colorful, but THIS was neither expected, nor desired: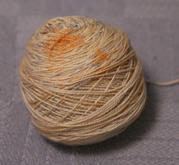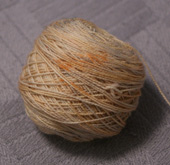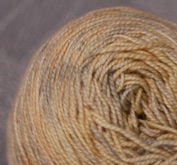 Following an explosion of Gatorade in my bag, wool stepped up to the challenge and did exactly what it's meant to do – soak up the liquid mess. Lots of things got wet, so I'm not sure what the skein picked up, exactly, but I think it's ink from my inkjet printer (via a printout in my bag). And the sock in progress didn't escape unscathed either: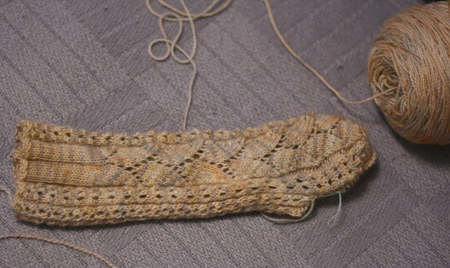 This is after scrubbing, and soaking, and more scrubbing, and another soak, and…
So, I'm super pleased with how the Fleece Artist merino sock yarn holds up to vigorous scrubbing, haha! And the strange stains have faded some, but overall the situation is very dir-taaay!
I'm determined to continue, however. I know my grandma won't care too much. The stains on the skein – I think I'll just leave them there and knit them into the sock. I'll pre-treat the socks again before the final wash, and just hope the stains will continue to fade until, poof, they disappear ;). Wishful thinking, eh?
0
likes