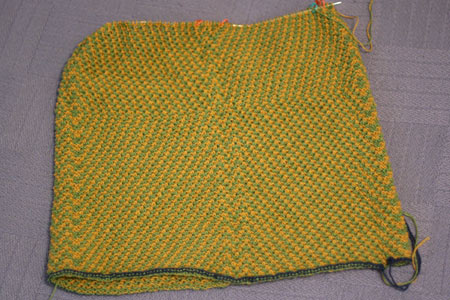 Whenever I photograph The Bag, I spend as much time correcting the digital images as I do taking them. Color balance, brightness and contrast, levels, sharpness: they all get their turn, all in an effort to distinguish the yellow and green stitches more clearly.
The reason for this: the yellow and green yarn colors mesh with each other incredibly well. In scientific terms, their values are very similar, making it impossible for one color to "pop" against the other (color specialists: correct me if I'm wrong). Compare the photo above with photos of individual Hempathy skeins (minimal post-processing applied):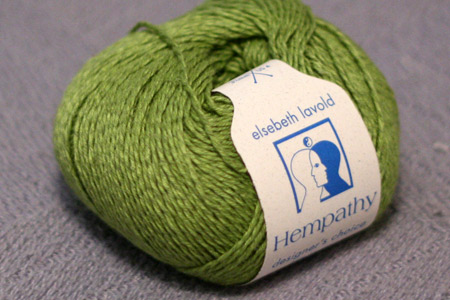 Hempathy: Vivid Green (017)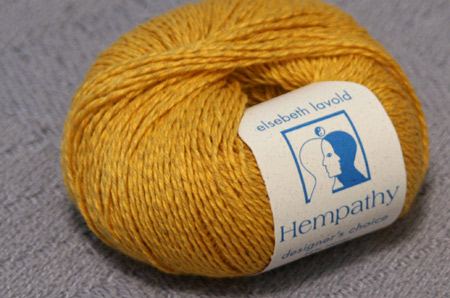 Hempathy: Sunflower (014)
The Vivid Green is like a Granny Smith apple. The Sunflower is like a matte 24K gold ring. On their own: so vivid, so juicy, and so lively. But together, each one dampens the other.
Truth be told, this isn't exactly the look I was going for – I wanted the color combination to be more dramatic than this. But this unexpected result is a wonderful learning experience as far as color theory is concerned.
The thick, textured Hempathy fabric completely trumps my ho-hum feelings about the color. I tell you, it's 100% adoration for the Hempathy, aaahhh! Besides, I know I can pick things up with proper finishing. At the moment I plan to knit a rectangular seed stitch bottom (constructed just like Corded), line the bag with some happy cotton fabric, and add interesting handles. These twisted bamboo handles are very lovely. Or maybe simple straps sewn from the lining fabric and attached with these
pretty tortoise O-rings… Yum! I have to finish the knitting before starting the sewing fun!
0
likes