Remember those Canal du Midi socks I knit for my grandma? The photo in Knitting on the Road
looked spectacularly craptastic, but the pattern had awesome potential. Beyond the yellow, crunchy-looking yarn was a gorgeous pair of socks.
While flipping through my sock pattern books, I found another ugly duckling: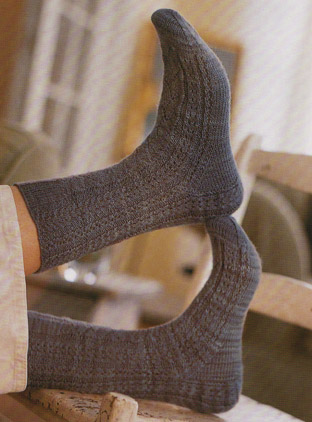 Merino Lace Socks
| Anne Woodbury |
Favorite Socks
A perfect case of CdMS: Canal du Midi syndrome. The lower sock is completely out of focus, the side view doesn't showcase the gorgeous pattern along the front of the foot, and the dark yarn hides the delicate lace pattern all too well. The charts*, however, told me everything I needed to know – there was something quite special behind the lackluster photo. A lighter yarn and sharper pictures would make everything all better.
*The first printing of the book has a mistake in one of the charts – make sure to check the corrections! (p. 41 for this pattern)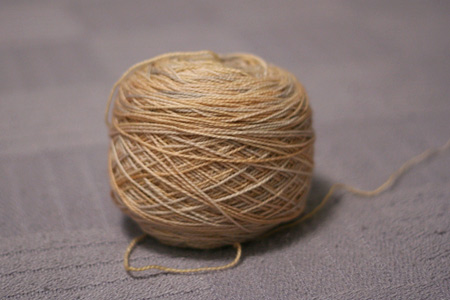 I'm back for more! I enjoyed knitting the Uptown Boot Socks so much, that I'm using Fleece Artist yarn again! This is a very mellow colorway – ivory with hints of yellow and gray – very subtle variegation, perfect for my grandma.
Both this "ivory" skein and the "russet" I used earlier were purchased at Tidal Brook Yarns (very nice folks!). Fleece Artist dyes yarns in very small batches, so don't be surprised when you see nearly identical hanks sold under different names.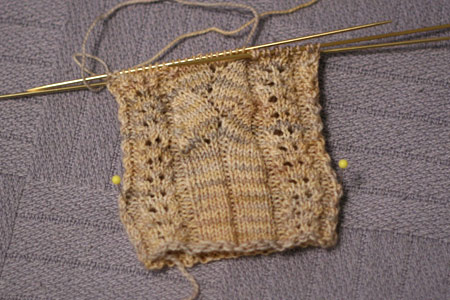 One might think that such a muted colorway cannot pool, and indeed I don't think it can pool hideously. But any handpainted yarn, no matter how tame it looks, can misbehave slightly. So far the pattern looks to be behaving., and I'm hoping that the pattern and yarn combo continue to be pleasing. Until this is a certainty, I will be supervising ;).
0
likes