My joy in life is details.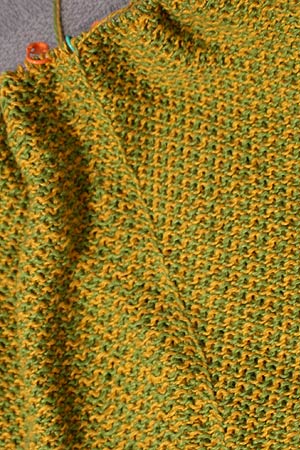 The Bag is knit circularly, and the colors alternate every two rounds – two yellow, two green, two yellow, and so on. Because many of the stitches are slipped, the fabric compacts in both the vertical and horizontal directions. I'm certain that carrying the yarns without twisting would not result in noticeable holes. However, I've chosen to twist ;). The neat barber pole created at the start of the round makes me oh-so happy!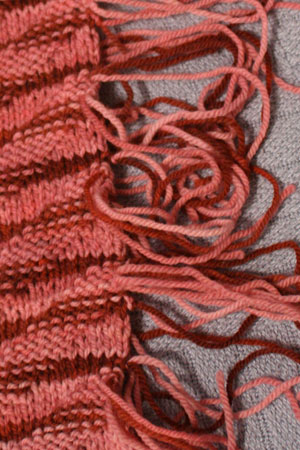 The focus of the Focus on Fringe scarf is, naturally, fringe. The extensive mane is formed along the long side of the scarf: the yarn is cut every two rows, and the tails are knotted together. This easily lends itself to various striping whimsies. At the moment, I'm tying every two tails into a knot, close to the edge of the scarf. I may make a second row of knots about 1″ away from the edge (just as the pattern suggests) before trimming the fringe.
My blanket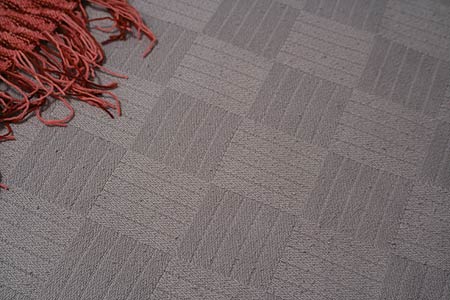 You've seen this blanket countless times on my blog – I frequently use it as a backdrop in my photographs. Its color is pretty neutral, so it doesn't distort the colors of my projects too much.
What you don't know is that it is the softest, cuddliest, most wonderful blanket ever
– 43 bucks, 50% cotton, 50% bamboo, 100% the type of blanket you give to a baby (okay, triplets – it's a big blankie!) and it's still a treasured possession 18 years later.
But it's starting to pill, and while I don't mind continuing to sleep under it, it's becoming less and less attractive when used as a backdrop for my knitting photos. So sad. Harumph!
0
likes