Ah, my pretties, let's get to the bottom of this Meida trickery!
When we compare Domesticat's Meidas, my Meidas, and the way they appear in Favorite Socks
, we most certainly notice that the scallops face upward towards the ankle for Ms. DC and Ms. Bush, but downward towards the toe for me. But that's a minor point which is easily explained by the fact that I'm working these socks toe-up.
Allow me to position all three socks such that the cast-on of each is at the bottom of the picture: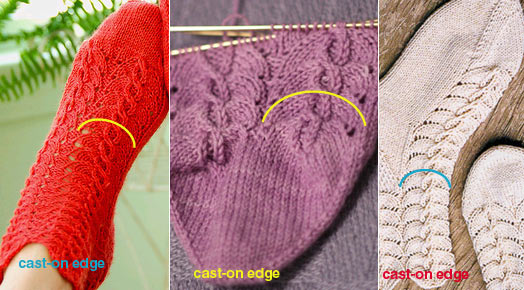 Now we're looking at the stitch pattern from the same perspective – the cast-on edges are all lined up, the scallops all face the same way… there's really no difference! Right?!? Wrong!
Take a look at the cables: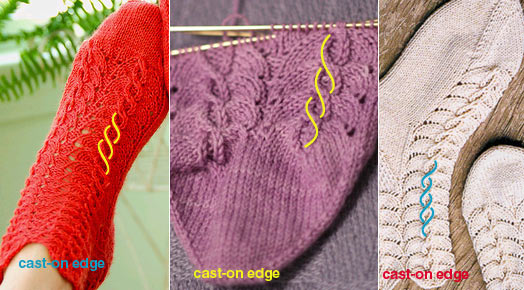 Domesticat's and mine cross to the left, while the ones in the book cross to the right!
After a little investigating, it seems that the written-out directions result in left-twist cables, but the photo and the symbol used in the chart lead you to believe that you'll end with right-twist cables!
(I'm not 100% positive about the chart symbol – I don't have the book in front of me – but I think it was for a right-twist cable)
It seems that something, somewhere, got reversed. Tricky!
P.S. I got Domesticat's permission to use her photo for this entry, but not before a gentle kicking-of-the-ass for using her photo in my last entry without checking with her first. And she's totally right! I hang my head in shame, especially because I really do know better.
0
likes