Well, thank you!!! I'm quite proud of my corduroy skirt, and would gladly share more detailed photos with you if there was a way to photograph black fabric without losing my mind. I certainly couldn't have completed this project without help from my amazing sewing teacher. She was the one who recommended cutting the corduroy on a 60° bias, which created extra flounce and a very flattering drape.
Onward!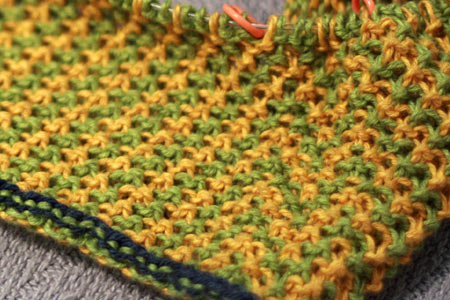 The Bag definitely needs to be knit in two colors. The slip stitch pattern produces a dense, textured, and sturdy fabric, extremely well-suited for a bag (and ill-suited for just about everything else, in my opinion). However, ditching one of the colors will only complicate the construction, I think, because the alternating loops act as visual cues, guiding the knitter, clarifying what comes next.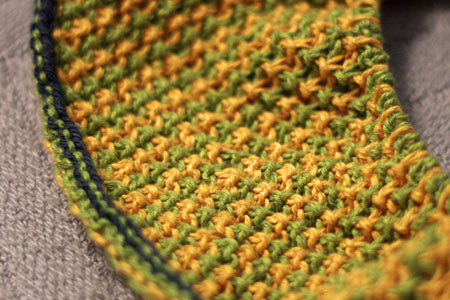 I started the knitting with a provisional cast-on, just as suggested in the book
(though I used the crochet cast-on instead of the recommended looping one). This is because I'm not sure what kind of hardware will finish my bag (certainly not garter stitch flimsies), and I want to be able to knit an appropriate backbone for the handles after that's decided.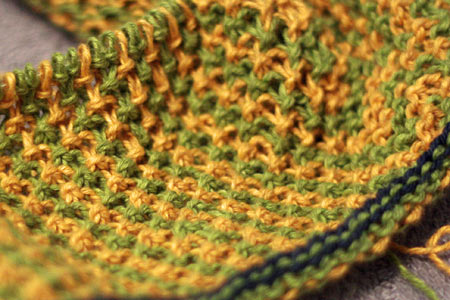 A few words of advice to those of you who might be considering this pattern: first, do not knit blindly. It will be extremely easy to get lost in all the verbiage if that's all you're using as a guide. Look at the stitches, notice how the slipped stitches travel across the fabric, and how the fabric is broken up into eight sections. Soon you'll realize that the pattern is composed of only 3 different rounds, not 12 as you might have thought, and that each round can be deduced from the one before.
Second, when you set up, place markers as follows: k30, pm, (k11, pm, k36, pm) 3 times total, k11, pm, k6. Of course include a contrasting marker at the beginning of the round. This will break up the fabric into the eight sections I mention above, and make your life easier :).
Once you do those two things, you will be knitting The Bag without much thinking! Instead of following the pattern, you'll be able to shift your focus to the incredible rustic fiber goodness, be it the Hempathy I'm using, or the Allhemp6 recommended in the pattern.
0
likes