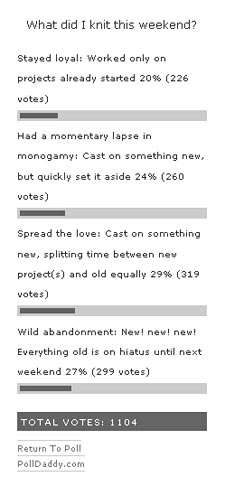 My goodness! After 1100+ votes, it seems my readers are utterly confused as to what I might have chosen to knit this weekend :).
Perhaps there was a bit of psychological projection involved: "Mmmm, I'm embarrassed to admit that I started three new projects this weekend, so you must've done it!" Or maybe some wishful thinking: "Gosh, I wish I had the determination to stick to my current WIPs; I hope you're stronger than I am!"
But the truth is that I'm entirely predictable. If you've been visiting long enough, you know I either finish projects, or frog them. Sometimes there are hiatuses, or various other pauses, but I'm not the type to start a gazillion new things and never see them through.

However, moments of instability are not ignored – I know myself better than that. If I'm dying to start something new, I don't withhold it from myself. The consequences of denial are too awful to bear: boredom, indifference, and finally, entry into a frantic state of cast-on-itis: everything in sight, all at once, without any thinking.
Sometimes a few novel rows are all I need. Instantly my fingers are calmed, my mind is soothed, and all current WIPs start to look attractive. Therefore, I had a simple momentary lapse in monogamy: cast on something new, worked on it for a bit, then quickly set it aside. Jess was right on:

It's been far too long since I've knit a pair of socks. I'm dying over here! Grandma's moratorium is proving too difficult to stomach. In a moment of weakness, I caved: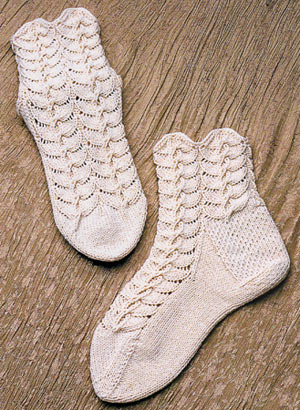 Meida's socks | Nancy Bush |
Favorite Socks
A thoughtful friend showed this pattern to me back in April 2005 – it was originally printed in the Spring 1997 issue of Interweave Knits. Ever since then I've wanted to knit it – so pretty, so delicate! Then domesticat went ahead and knit it, and I fell in love with Meida all over again.
Because the socks are short, and domesticat was able to squeeze a pair out of a single skein of Lorna's Laces, I figured I could use the lone skein of lilac LL I recycled from the Hidden Passion socks. Maybe it will be enough. Grandma's feet are big (US 11), so truly maybe.
To minimize agony, I weighed the skein of LL before I started (56.9 grams), then cast-on the toe using Judy's method. I'll knit until I use up half of the skein. Will 28.5 grams be enough to make a sock for grandma? How many repeats above the ankle will there be? Time will tell.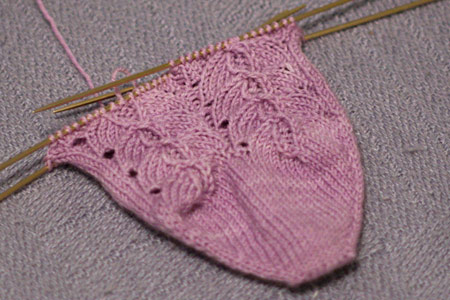 Not surprisingly, I'm making those fancy cables without a cable needle. Yes, you can do all kinds of cable trickery by swooshing stitches here and there, no extra needle required! Unfortunately there's no set rule for converting standard cable instructions into needle-less ones. The combinations and permutations are too many for that kind of thing. Typically I visualize what the designer intends, which stitches go where, and in what order, then proceed from there. Sometimes I'll actually grab a cable needle and follow the original to make sure I've got it right! It's only knitting, why not experiment?!?
See if you can follow along :). The author writes:
Place 2 sts on cn to front, k2, place 2nd st on cn onto left needle, knit 2nd st, then knit st on cn.
I do:
Slip 2 sts wyb, k2. Transfer 3rd st on RH needle (it's the leftmost of the slipped sts) to LH needle from the front, knit it. Transfer 3rd st on RH needle (the remaining slipped st) to LH needle from the front, knit it.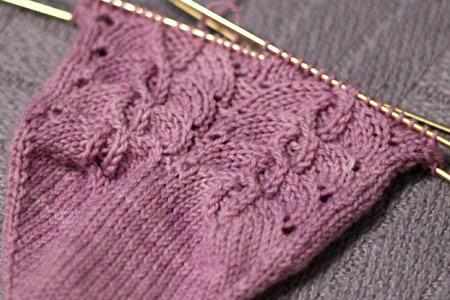 Ta da! Give it a try!
P.S. For the curious/astute: take a look at this collage. Do you notice something funny? (DC, please don't kill me for using your photo!)
0
likes