Happy knitaversary to me,
Happy knitaversary to me,
Happy knitaversary, dear Grumpy,
Happy knitaversary to me!
And many more!
On this, my third knitaversary, I will bask in the knowledge that there's always more. There is always another sweater, another yarn, another needle, and another technique just waiting around the corner, begging to be explored.
There's always more. Another day, another challenge. And that keeps me knitting, and taking photos, and blogging. The day I sop up all the knitting goodness would be a sad day indeed, because that would be the day I put down my needles. I'm joyful knowing that this day will never come. There's always more!
– – – – – – –
In the spirit of pushing my limits, embracing the unknown, and learning something new, I decided to start my Fishnet Knee-Highs from Knitting Lingerie Style
using one of those "magic" cast-ons. You know the type – there's yarn, two needles, some wrapping, some mingling, and voilà! Two rows of stitches are formed, morphing into the completed toe a few rounds later.
I've never used any of these "magic" cast-ons before! First, I knit most of my socks from the cuff to the toe. Second, the provisional cast-on, short-row method has always worked for me, so I felt no need to try another.
But it's a new year for me, and I want to start it the right way – knitting something clever and different. So I tried Judy's Magic Cast-On, which I first noticed on Wendy's blog.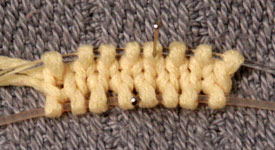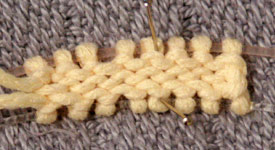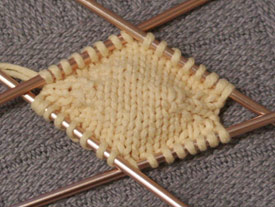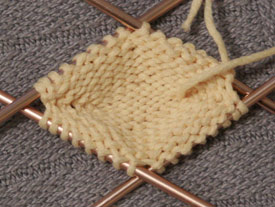 I'm amazed. It is completely, entirely seamless. Sure, it was a little tricky to cast-on, but once I got the hang of it, it went quickly, effortlessly. There was no wrapping and picking up short-rows (tricky with a thick yarn and small needles!), and there was no provisional cast-on. I can't believe I waited three years to pick up this technique. There's always more – for me, for you, for our craft.
0
likes