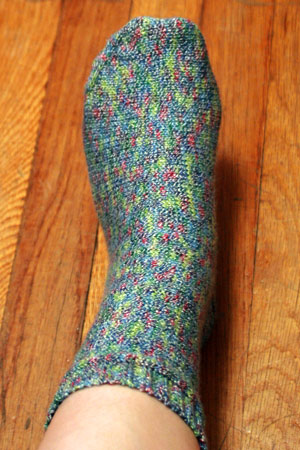 I'm absolutely dumbfounded. Shocked. How could this be?!?
Seriously. I'm in a state of panic.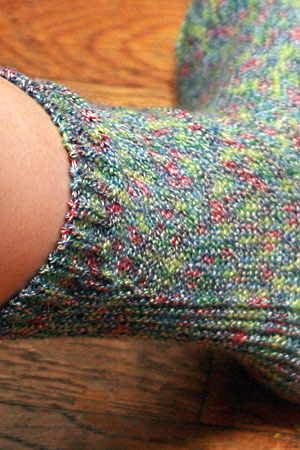 I mean, have you glanced at the Sidewinders directions? Talk about odd, esoteric, bizarre, and all together kooky.
All of that could turn out to be a proper sock?!? Yeah, right!
But it did. It was all a matter of trust. I knew Nona wouldn't lead me astray, no matter how ridiculous the sock-in-progress looked sometimes, no matter how nonsensical the instructions seemed. I trusted every line of that kookiness.
And I must say, it's not just "a sock," it's a decent-fitting sock!
The only thing I'd change is the width. A slightly narrower sock would have been perfect. You see, my feet are borderline wide – the circumference at the ball of the foot is 8.75″, I have high arches and instep, and shapely calves – so I worked the wide variation of the sock. That ended up being about 4-6 rows too wide, however. (The medium width wouldn't have worked, in case you're curious: it's 12 rows narrower, so it'd be too snug.)
But now that I know how the socks are constructed, I think I'm capable of modifying the pattern to fit my medium-wide feet. The question is – do I rip this one out and start over, or knit a pair of looser-fitting socks for lounging around the house and such?
Dud photo alert!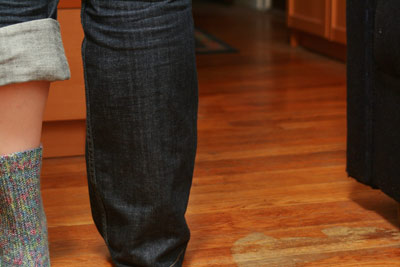 Oh, sock photography, why must you be such a pain in my ass?
0
likes