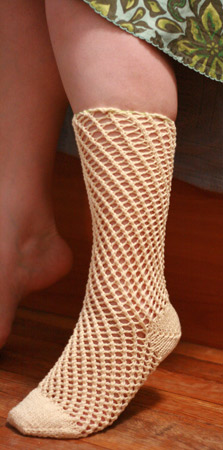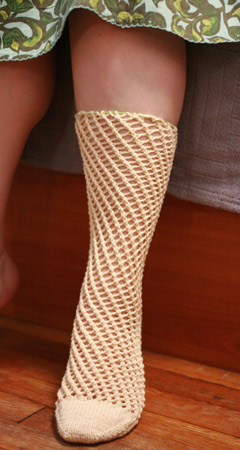 For the record, this is how far 1 skein of Wick gets you. That's about 9″ above the anklebone (of my average US 7 – Euro 38 feet). Not bad! Especially considering each skein is only 120 yards.
I've been asked many questions about these socks – (Q1) are they comfortable? (Q2) Do the bumps created by the decreases hurt when you step on them? (Q3) What's the point of using moisture-wicking yarn when there are so many holes? (Q4) And who knits socks out of worsted-weight yarn anyway?
Did I get them all? 🙂
I thought about all these points, and my answer is we all have different priorities. Wendy would say, "Your mileage may vary."
I had 2 skeins of Wick in my stash for the longest time, more than a year, and I've been itching to knit it up into something, anything. When a cute and interesting pattern came along and I was able to get a 3rd skein without much effort, it was reason enough for me to cast on.
I didn't consider what it would be like to wear the socks because, first and foremost, I knit for the sake of knitting. You knew that, right?? Your reasons for knitting may be entirely different, and the wearability of the project may be a very important priority. But that's not the case for me. I really didn't think much about it until all the comments. I just think these knee-highs are way cool and therefore I must knit them!
But I know that's not the answer you want to hear. You want me to think about the questions you posed, and give an honest opinion, right?
Certainly these knee-highs are more 'show' than 'function'. If we wanted functional knee-highs, we'd grab some wool and hit up Cookie A for a pattern. (A1) On the other hand, I really dig the fabric formed by the fishnet pattern – it's very stretchy, and I think these will stay up exceptionally well. (A2) I do feel the decrease bumps when I step on them. They don't bother me, but they may bother you, especially if you plan to wear these socks with shoes. (A3) I think the designer chose to use Wick because it's very stretchy, and very soft, and not because it has moisture-wicking abilities. I think Cascade Fixation Bulky would do the trick, too, except it's not as soft, in my opinion. (A4) Using thinner yarn would make very dainty and delicate fishnets for sure. So, go for it! But for instant gratification, worsted weight is awesome. Just a few days, and you've got a finished pair of pretty, lacy, ooh-la-la, make the men drool stockings!
0
likes