In the there's always more category, I have never knit with a rustic, twine-like yarn. You know the type – linen or hemp (or a blend), crunchy at first, soft and supple after a few washes and trips to the outside world. Maybe the summer weather is to blame, or my general desire to try new stuffs, but a few weeks ago I became determined to change my naïveté.
And now, at last, I've got my grubby little paws on some fantabulous rustic yarn.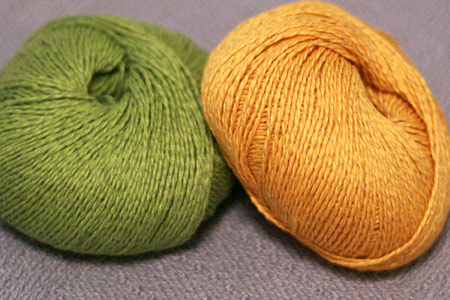 Hempathy by Elsebeth Lavold

41% cotton, 34% hemp, 25% modal

017 Vivid Green and 014 Sunflower

Destined to become The Bag from No Sheep for You

Supplied by the incredibly patient and accommodating Cynthia at FuzzyMabel. Seriously, there were 3 exchanges involved, and she didn't bat an eyelash. Free June shipping and Fuzzy Dozen promos were utilized :).
Oh, this is gorgeous stuff, candy for the eyes, the hands, and the needles. Swatches have been knit, and The Bag knitting will commence shortly!
P.S. I received my Norah Gaughan, vol. 1 yesterday (I ordered it the most old-fashioned way possible – mailed 'em a check). GAH! LOVE IT! Let the scheming begin!
0
likes