The only thing better than voyaging through the World of Knitting is having fabulous co-pilots – thank you, my friends, for taking this joyride with me.
"Come along and ride on a fantastic voyage."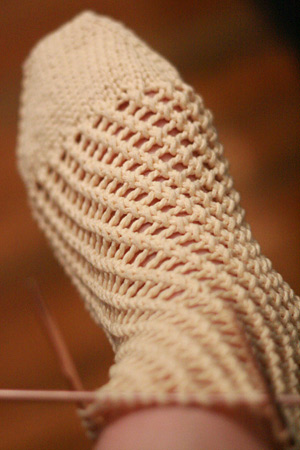 That looks more like it, don't you think? Following the instructions Joan M-M e-mailed to me, the Fishnet Knee-Highs emerge exactly as promised.
And that wasn't the only exciting discovery, my friends! No! Much like the Odessa hat, the knee-high pattern is a spiral – there's no beginning or end, just one continuous, seamless coil of stitches.
Well, nearly seamless. Since the fishnet pattern is a 2 round repeat, there has to be a seam. A teensy seam that the designer disguised very cleverly, but a seam all the same. Can you spot the stitches which join the 2-round repeat into a spiral?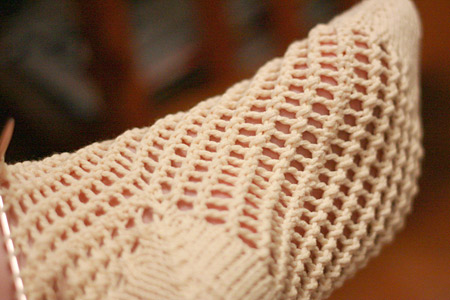 I took the time to center "the seam" on the bottom of the foot, so it's as invisible as possible. At least for now. Eventually it'll snake its way up the calf and onto the front of the leg, but I have a feeling it will be unnoticeable nonetheless.
Having completed the tricky bits of this pattern, I have a sneaking suspicion that Joan M-M has been "over-edited." Not only did the editor completely revise the stitch pattern (the stitch pattern, people! what's more important than that?!?), the rest of the instructions seem to be missing that Joan M-M touch. Like how to figure out when it's time for the heel, or how to position the heel in relation to the toe, or where to place the beginning of the round after completing the heel so that the eyelets continue to flow.
I'm guessing Joan included all those hints in the original pattern, and they've been edited out. For shame.
Someone who's knit a pair of socks (or two) will be able to figure things out, I'm confident, but not before a hearty amount of headshaking. Good thing Wick is quite resilient!
0
likes