What's the hallmark of a really good trip? One during which knitting hardly crosses your mind, and you return with miniscule progress to show (if any at all).
Because my Fir Cone scarf requires a lot of concentration, and my Alpaca Twill sweater stayed home, I started a new pair of socks. I'm only human!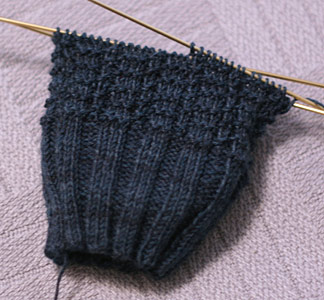 The pattern is Stansfield #10 from Charlene Schurch's Sensational Knitted Socks
(p.48). The yarn is (surprise!) Lorna's Laces Shepherd Sock in navy (from Linda, of course).
I'm adding generous calf shaping just as I did for the Railway Stitch socks. I hope you can see it developing in the picture below.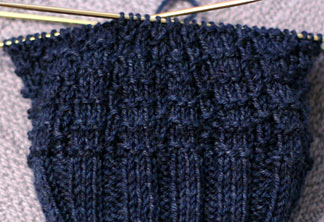 I've also started to seriously think about my Sockapalooza 4 pal – he/she will need socks, too! Very timely considering my grandma's ban. I've found a suitable pattern, I think, and now I'm mulling over the colorway of the yarn. I just need a few days to get my brain back in order…
0
likes