Is there such a thing as hijacking one's own blog? Well, I'm about to do just that. Indulge me for a second time as I fill in the missing details of the My True Fit story. While I typically eschew topics not related to knitting on this blog, your response to my first True Jeans encounter suggests that you, like me, are denim lovers, passionate about finding that perfect pair, and would be interested in knowing what happened next.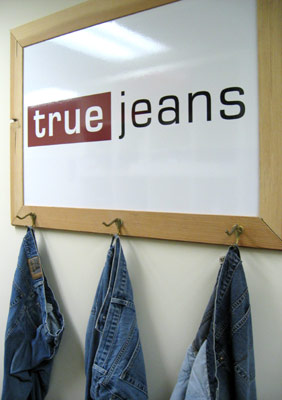 Well, the folks at True Jeans are as passionate about jeans which fit perfectly as you are. I say this with utmost assurance because I went, I chatted, and I saw it for myself.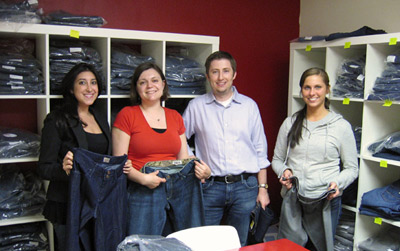 From left to right: Jessica Arredondo, Co-founder; me, jeans guinea pig; Romney Evans, Co-founder; Julie Reppucci, Fit Specialist.
I signed up to be a Fit Tester after my fabulous in silico experience, and visited the company on Monday. Jessica and Romney's enthusiasm, vision, and intent to nourish the company in the direction of customer demand is refreshing! Trying on different jeans with Julie's guidance was akin to having a personal shopper… and let me tell you, it's exponentially better than going at it alone in a department store.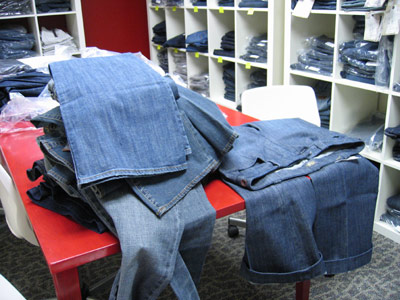 Hello, would you like to try on some jeans?
Where else will you be able to find the perfect pair of jeans, all while providing valuable stats for women across the country? At a True Jeans test fitting, that's where. If you're in the Boston area, consider signing up to be a Fit Tester – you won't regret it.
I walked away having found two great pairs of jeans: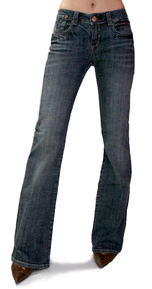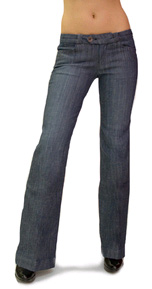 Pine IV Jeans Kyoto: all the special visual and textural details that distinguish designer denim. Kasil Jeans Tribeca: clean lines of a trouser combined with a comfortable denim fit. Check out the cool surprise hiding on the inside!
And guess what?!? Even though both pairs are too long for me, I don't have to worry about hemming them! As recently mentioned on the True Jeans blog, they now offer a hemming service for $15 per pair. I'll still probably hem them myself, but if my schedule is hectic, I have an excellent alternative.
Anyway, let me pause for a second and stop blabbing about myself. Why should you care about my True Jeans adventures?
Well, as a new company, True Jeans is eager to receive customer input – contact them, and they'll listen! Case in point: many of you lamented the lack of plus-size designer jeans on the website. Did you see the response Romney left in the comments?
We hear you loud and clear. Hang on just a little bit longer. It is extremely important to us to provide great brands to plus size customers. …We are currently doing a lot of research into plus sizes. We will be introducing two great new jeans brands for plus size women.
Not just talk, my friends. I actually saw the (fabulous! quality!) designer plus size jeans when I went for my test fitting! Once they're available for purchase on the website, I'll let you know. Exciting, isn't it?!? What's more, True Jeans will give my readers a special discount code for those styles once it's all set up, for being so passionate and patient. Yay!!!
In the meantime, for those of you who've already found great styles but need a little extra incentive to make a purchase, True Jeans is kindly sharing my fit tester discount with all of you! Through the end of this month, you'll receive a 15% discount by entering discount code grumperina during checkout.
Now go! Go sign up to be a Fit Tester! Go get yourself some trouser style jeans! (they're the new "it thing," I'm told) Go shop at My True Fit!
0
likes