The unlucky nature of the number 'four' in several Asian cultures has nothing to do with my particular brand of aversion. I think it's more about vision and perception, as many of you remarked.
To my eye, the perceived middle of an object should be something rather than the absence of something… in other words, a hill instead of a valley. With larger even numbers – 6, 8, 10, and so on – it's easier to overlook the emptiness of the center. But with 4, it's impossible to miss. There it is! The center! And it's a big fat zero, the empty space between two fir cone repeats.
Five it is.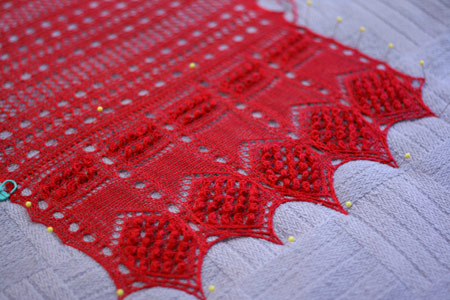 One end of the scarf is complete, and it will be a long while before the second round of acrobatics. That's because the two intricate borders are connected by a virtual no man's land – mindless garter stitch lace.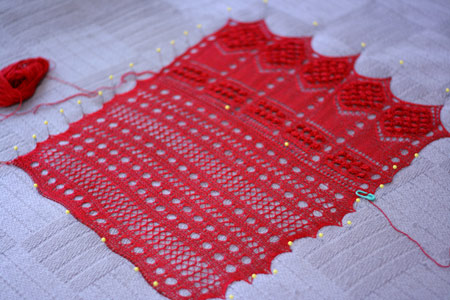 I'd be lying if I told you I hadn't been looking forward to this part. With many good reasons!
Mindless knitting immediately propels this project to 'commuter-friendly' status, greatly increasing the rate of production.
A simpler pattern will better show off the subtle variegations of the Clara Barton colorway.
I can fully enjoy the yarn's texture as it glides through my fingers – it's not like I'm preoccupied by an intense pattern!
Varying complicated bits of a pattern with easy ones is good break for the body: the googly mooglies will be back soon enough… for now I'll enjoy simpler stitches.
0
likes