Although the Sockapalooza 4 socks aren't due until the beginning of August, I decided to get an early start.
Well, I didn't have much of a choice. With the moratorium on sock knitting for grandma and my deep-seated need to constantly have a sock on the needles, I'm really grasping at straws here. I'm this close to stopping random strangers on the street – do you need a handknit sock? How about you? Anyone???
By the way, come September my grandma won't know what hit her. I've been buying some really fabulous yarns (Crown Mountain Farms Sock Hop yarn and Fleece Artist Sea Wool, just to name two) and earmarking gorgeous patterns (most from Favorite Socks
), so I'll be ready to crank them out as soon as the ban is lifted. Mwahahaha!!!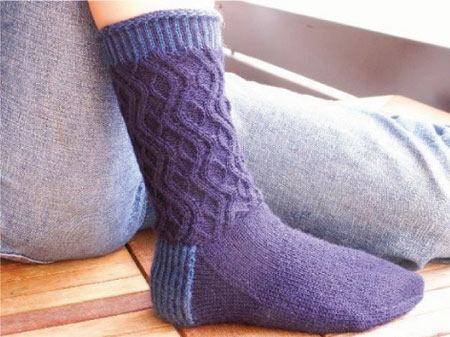 After contemplating for a bit, I decided my Sockapalooza pal would like the Scala Socks, designed by Stephanie van der Linden. Scala Socks were the November 2006 knitalong selection of the German Yahoo group Socken-Kreativ-Liste. I've had this pattern on my mind ever since I saw this post by a knitter from Oregon. Good thing I can now unload it on my sock pal…whew!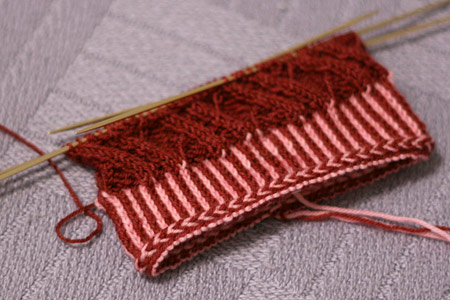 The yarn is Lorna's Laces Shepherd Sock, naturally, in cranberry (45ns) and peach (10ns). Hey, it's a fruit compote!
So far I've had to do a bit of fudging with the numbers. One look at the pattern, and I knew it wouldn't be very elastic: we start with a "twined herringbone" (Charlene Schurch source #1
) or "Scandinavian twisted" (Charlene Schurch source #2
) edge. Then the two-color cuff: stranded colorwork is always a bit tight. The pattern itself is cables and twisted stitches, both of which draw the fabric in.
As written, the pattern would fit my foot perfectly: 77 stitches in the fancy-pants leg portion, and 63 stitches in the plain foot portion. But my pal's foot is a bit wider, so I've been adding stitches here and there. Don't get me wrong – I have plenty of practice knitting for people with bigger-than-average feet (cough-grandma-cough). But one must be very careful with an inelastic pattern, aiming for maybe 1″ of negative ease compared to the circumference of the foot at its widest point. Stretchier sock patterns are more forgiving – 1″, 2″, 3″ less than the circumference – it's all good.
So, the motto for this project – measure, then measure again, then ask someone with bigger feet to try it on, then some more measuring, and perhaps another try-on. When you want it done right, you have to do it the right way ;).
0
likes