There's only one right way to block a Dolphin scarf: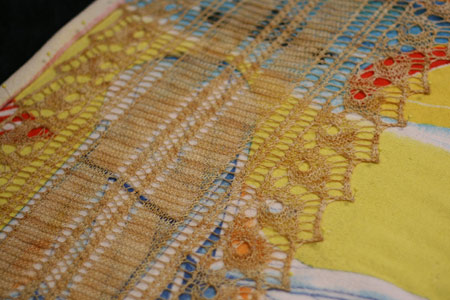 On a beach towel, of course! Maybe not as cool as June's foam mats (and definitely not as cool as June's shawl itself), but it's colorful and it works!
Although I wasn't able to find more matching Seasilk, the scarf is currently a healthy 58″ long. That's something I can live with.
After blocking I'm instructed to add a simple crocheted edging along the narrow sides of the scarf. Now, you know I'm the current titleholder of World's #1 Crochet Dufus. I can make sense of knitting and sewing instructions, cooking recipes, wirework tutorials, (most) camera manuals, even plumbing! But give me a few 'dc' on top of some 'sc', and my eyes go blurry.
Damn it! I wand my dolphins to be perfect! I stared at the edging directions, consulted the tutorial in the back of VLT
and my only crochet book
, telepathically communicated with Maryse, practiced a bit and ripped out a whole lot… and I think I've finally got it!

Can't wait to prettify the dolphins :).
0
likes