Saturday, April 14th, 2 p.m. Phone conversation with my grandmother.
Me: Hi, grandma! How are you?
Grandma: I'm good.
Me: Did you get any packages from me recently?
Grandma: I did! I haven't gotten the chance to talk to you, but I got the brown socks you knit for me.
Me: Good! I was starting to worry – I mailed them out a week ago, and didn't hear from you.
Grandma: No, no, they're here. The package was so small, I didn't even think they could be socks at first.
Me: Yeah, I didn't tell you that I had knit another pair, so it must have been a surprise. Do you like them? Do they fit?
Grandma: Yes, they're great! I don't know where you got such interesting yarn. It's brown but it has other colors in it, too. And how did you finish them so quickly? I got the blue ones just a few weeks ago.
Me: These knit up really quickly, I'm glad you like them.
Grandma: You know, I don't even wear regular socks anymore, just handknit ones.
Me: And that's how it should be.
Grandma: For the summer I wear the darned ones… for ventilation.
Me: [rolling of the eyes] I should really stop sending you extra yarn. You shouldn't have to darn your socks.
Grandma: You know, I still have all the prettiest things. Even the scarf* you just sent to your mom isn't as nice as the one I have. Not her old one, nor this new one*.
[*I gave my mom my Shetland Triangle.]
Me: Never! You will always have the most pretty things.
Grandma: Yes. Well, it's enough. I have enough socks now. Knit for someone else.
Me: [laugh] Okay.
———-
And with that, the Hidden Passion socks are demoted from "temporary" to "permanent" hiatus. Don't get me wrong – I really love that design, but it took me a good 4 tries to get it right. And that's the equivalent of knitting a pair of socks. I'm not sure whether one day I'll pick up where I left off, or frog and reknit the pattern with some modifications, but I'm not going to think about them for a long while.
Instead, I want to knit another sweater for myself. I splurged during the Webs Anniversary Sale, getting a bag of Classic Silk and a bag of Jo Sharp SilkRoad DK, and now have an uncomfortable amount of sweater yarn.
Plus there will be sock knitting for my Sockapalooza 4 pal. I get quite enthused finding yarn and pattern perfectly suited to my pal.
And I've started a pair of non-grandma gift socks: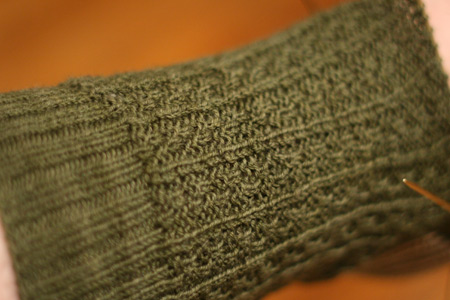 These are Gentleman's Sock in Railway Stitch from Nancy Bush's Knitting Vintage Socks
. The gorgeous olive green yarn is Lorna's Laces Shepherd Sock in cedar (from Linda, of course). I'm using some chino Lorna's for the contrast, leftover from these socks I knit for my dad.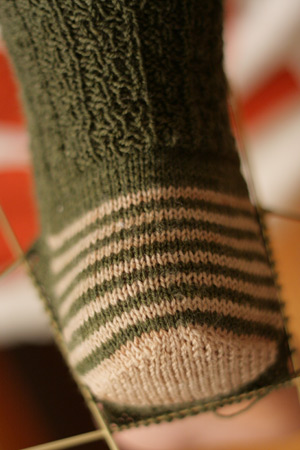 I just hope I have enough for two heels and two toes, since I think the two go quite well together.
0
likes