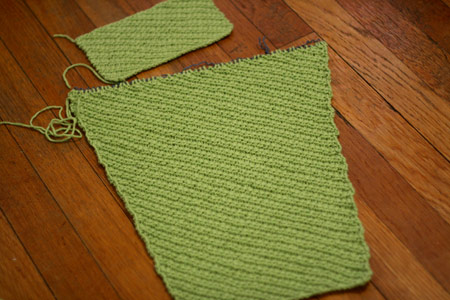 You see what I mean?!? That's how much knitted fabric I was able to squeeze out of a single skein of Princess! A 7″ x 4″ swatch, plus one sleeve nearly up to the sleeve cap. For the mathematically inclined, a little more than 170 square inches.
I feel reassured that I'll have enough yarn for big lapels and a bit of ease in the bust. I want my Alpaca Twill to be a cardigan I wear on chilly autumn days, on top of long-sleeved tees or thin cotton sweaters.
At this point I'm going to block the partial sleeve.
?
This is not my typical modus operandi. I usually finish knitting all the pieces, then block, then seam. Furthermore, when was the last time you saw me knit a sleeve before the sweater's body?
Simple. When I suspect my gauge swatch has something to hide, I treat the sleeve (or fraction thereof) as an uber-swatch. This is regularly done by a number of knitters I know. And even though I believe the order of knitting and assembly is a matter of personal preference, blocking halfway can be beneficial in many cases.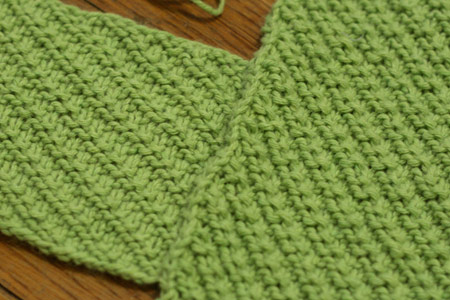 For Classic Elite Princess and the stitch pattern of Alpaca Twill, I found the fabric changed significantly after a bath. It fluffed up and flattened, and expanded a bit. But I was barely able to assign those changes concrete numbers – it's tricky to measure gauge in a highly textured fabric, plus it's very pliable and can be easily stretched vertically and/or horizontally.
I'm going to get a much better idea of these changes from an uber-swatch – 14″ x 13″ at its widest. Time to lather up!
0
likes