You know, sometimes I don't make any sense.
You'd figure that with all the gorgeous, modern, inspired, colorful quilting popping up on knitting and crafting blogs (and Etsy), I would have checked out Denyse Schmidt Quilts
by now. But it wasn't until last week that I finally took a good look at the projects. I'm embarrassed to tell you that I bought the book only to bring up my total to $25 on Amazon. Well, there's also the matter of being 47th in line to borrow a copy at the library…
I started scheming no more than 8.2 seconds after looking through DSQ. Don't you love the rush of planning a new project? The need to get started regardless of previous commitments, weather, work, hunger, pets, laundry, personal hygiene, etc.?
I was primarily captivated by the Any Way You Slice It quilt.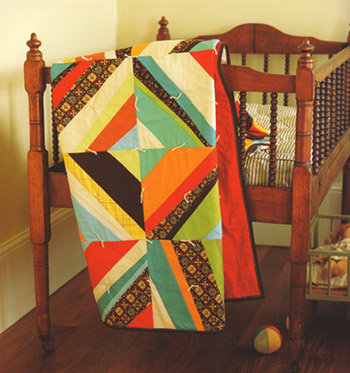 I love the random regularity of it, if that makes any sense.
But before launching into something so big and elaborate, I decided to make a smaller project: I've never done piecework, or used batting, or attempted to combine more than three colors/patterns. The Mix It Up cocktail coasters seemed like a perfect choice – functional, and constructed using the same methods as the Any Way You Slice It quilt.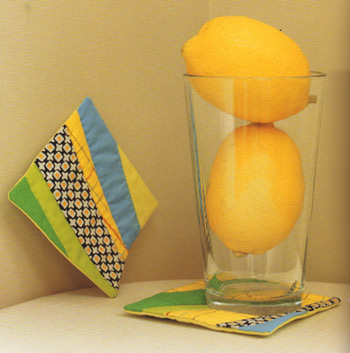 And let me tell you, I'm so glad I didn't jump into the deep end of the cold pool head first. Because those little coasters took three full nights to perfect, probably 4-5 hours each night.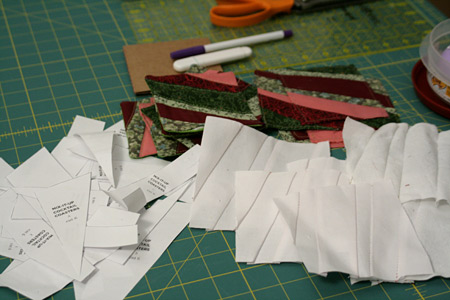 What you see there is a whole lot of trial and error. My problem was that the coaster tops kept coming out too small, no matter how carefully I sewed the fabric pieces together. I ended up having to modify the DSQ pattern, enlarging the final layout by 4.6% in the vertical direction and 6.9% horizontally. Many trial coaster tops were stitched, pressed, and 'squared up' to come up with those numbers.
All's well that ends well: I'm absolutely thrilled with my first little quilts!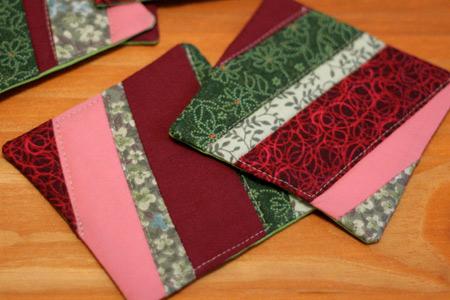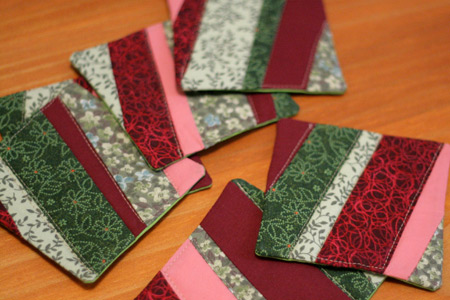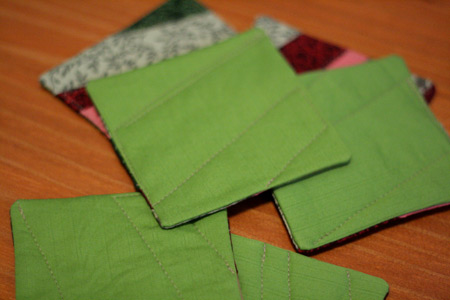 Allow me to ramble some quick and dirty facts.
The fabric is from Winmil, except the burgundy print (leftover from this skirt).
To me, chain piecing is like a cold glass of water after being lost in the Sahara. By the time I was putting together my third (ahem) set of coaster tops I figured out how to sew in one continuous line – looping the finished pieces from behind the machine to my lap, cutting them off one by one as more strips were added.
I don't have a point of comparison, but the Mountain Mist Blue Ribbon cotton batting I got from joann.com (always check for a coupon!) is very soft and lovely!
The quilting was of the "stitch in the ditch" variety, though I tried to quilt each coaster in one continuous line, skipping some seams and making sure to go over the opening left for turning.
Did you know that Clover makes quilting supplies? In order for each coaster to be a perfect 4″ square, I traced a cardboard template onto the top using the cutest little Clover chalk wheel.
Okay, enough. It's Friday, I have coasters, let's have a drinkie before I start cutting more fabric. Cheers!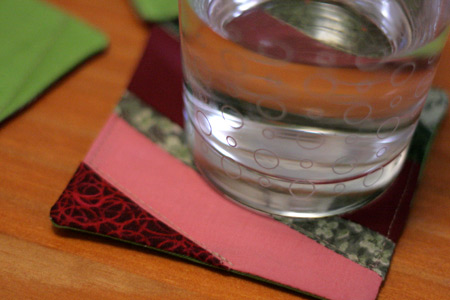 0
likes