I first saw Classic Elite Princess about a year ago at Wild & Woolly, and made a decision to buy a sweater's worth as soon as I spotted some on a sale.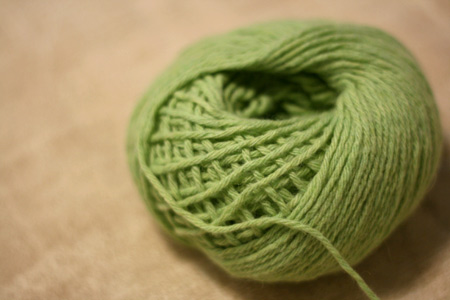 There are the obvious reasons: rich, mouth-watering colors, and incredible softness. But consider this: there are 150 yards in each 50 gram skein, and the yarn knits to 4.5-5 spi. That's unbelievable yardage! I could knit a sweater with as few as 8 skeins – a warm sweater weighing only 400 grams! It's hard to beat that.
A long while passed between first seeing the yarn, and then buying the yarn, and finally settling on a sweater pattern.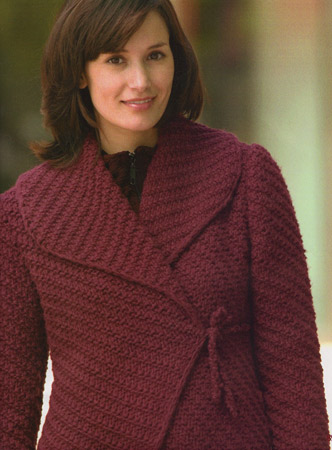 Somehow this gem never made it big. It's Alpaca Twill, designed by Norah Gaughan (of the Knitting Nature
fame), and appearing in the Fall 2006 issue of Knitter's Magazine.
Let me tell you, the construction of this sweater coat is so clever. The front pieces overlap just in the middle – function without all the bulk. How did Ms. Gaughan do that? Elaborate shaping! The stunning oversized lapels are knit as a continuation of the sweater fronts! They are then folded and seamed at the back of the neck. Is there anything more clever? No, there is not. The texture is wonderful, of course*.
I don't intend to mess with the construction. I like the way the two front panels overlap, then come apart at the hip. The big lapels hit the spot, too.
I am, however, choosing to knit this design in a yarn with a different gauge: 3 spi recommended, 4.5 spi achieved. I'm also not following the recommended finished dimensions. For example, a 16.75″ sleeve circumference at the bicep is recommended for my chest size, which isn't going to happen. Last, I don't want a long coat, nor do I have enough yarn to knit one. Depending on how much the sleeves eat up, something which hits mid-hip would be perfect.
Much like my Brilliant Retro, I'm following a design rather than a pattern.
*If the idea of knitting an entire sweater in 2×2 rib makes you scream, the Alpaca Twill stitch pattern may not be for you. It's just a stacked 2×2 rib: k2, p2, ad nauseum.
0
likes