No matter how many times we try to ignore, outsmart, and bypass gauge, it always finds a way to come back and bite us in the ass.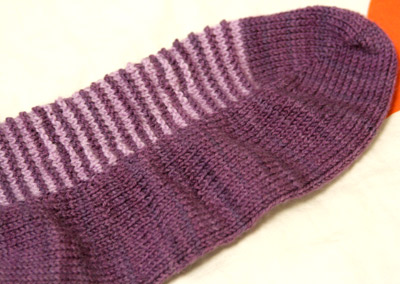 Here's the issue: the instep and the sole of the Hidden Passion socks are attached in an obvious way: one row of instep for one row of sole. In fact, it doesn't even matter that they're knit separately. Even if I were knitting the sock in the round, I would (naturally) have one row of instep for every one row of sole.
However, my stockinette gauge and shadow knitting gauge are very different! In the shadow knitting portion, I'm getting roughly 15 rows per inch. In the stockinette portion, only 11 rows per inch. As a result, attaching the instep and sole at a 1:1 ratio causes pretty dramatic puckering.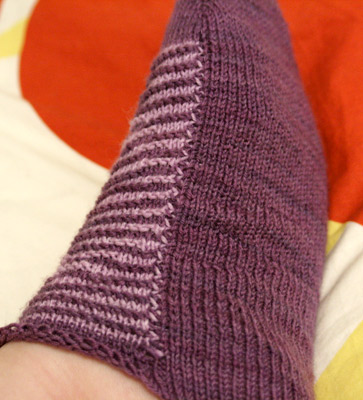 Admittedly once the sock is on the foot it looks much better. Who was it that said, "knitting hides a multitude of sins"? A little stretch, and a little give, and presto! You could never get away with this using woven fabric.
But it's me who's writing this. Me! You know me – I have a serious problem, a tick of some sort, an itch that cannot be scratched, a compulsion. If I can think of a better way to do something, hell and high water can't stop me.
The math is simple – in order for the fabric to be smooth and pucker-free, I need to knit approximately 2 rows of stockinette per 3 rows of shadow knitting. With a little fudging and futzing, I'll figure out how and where I'm going to skip some of the chain stitches.
Believe it or not, this gauge issue is not nearly as complicated as guessing the length of my grandma's instep. Frogging: it's not an inconvenience, it's a way of life.
0
likes