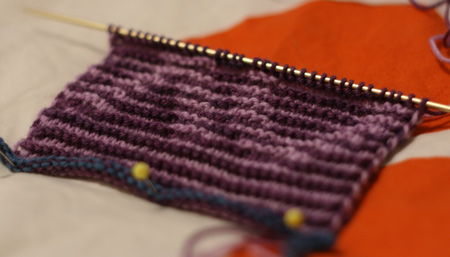 Would you be shocked if I told you that that is the humble beginnings of a sock? Is this not the strangest sock-in-progress picture you've ever seen?
Of all the socks I mentioned in my review of Favorite Socks
, the Hidden Passion socks stood out as the most interesting ones.
Why? If shadow knitting wasn't enough, these socks are also unique with respect to construction. Since there's striping across the instep, but none at the sole, either the instep has to be worked flat, or seamless intarsia in the round must be used.
Leaving intarsia in the round to Priscilla Gibson-Roberts' Eastern European Footlets in the same book, the designer Jaya Srikrishnan took the following approach: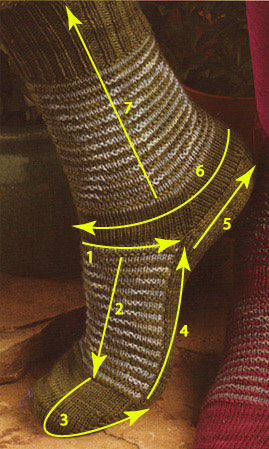 (1) Cast-on the instep stitches; (2) work the shadow knitting motif flat to the toe; (3) short-row toe; (4) work the sole of the sock flat, attaching it to the instep along the way; (5) knit traditional heel-flap heel, upside down (!); (6) pick up stitches along cast-on and join in the round, work gussets; (7) complete top of sock in the round, as usual.
Clever, isn't it? You know I'm all about the clever :). The only deviation so far is the initial cast-on: the designer suggests the knitted cast-on, but I've done the provisional. Both me and my grandma are blessed (?) with high arches and high insteps, and I can't imagine a true cast-on being comfortable at the foot's widest point.
As for my other shadow knitting project… on the one hand, it's looking quite intriguing. On the other, something about it isn't jiving with me. I think I'd be wise to set it aside for a little while, let it ferment and marinate in my brain. Clear insight will surely follow (ha!).
0
likes