As I continued to piece together the Brilliant Retro, I realized that perhaps my seaming technique is different than other folks'. When I was a young and naive knitter (a whopping 2 years ago), I followed the recommended seaming procedures and did perfectly fine. But over the years (ha!) I've started to deviate from the dogma ever so slightly, and I thought I'd share with you my current seaming protocol.
In the interest of making this more of a discussion than a tutorial (because seaming is seaming, and I'm definitely not reinventing the wheel here), feel free to share you seaming deviations in the comments. What do you do differently than everyone else?
1. Selvedges When knitting stockinette or mostly-stockinette, I don't treat edge stitches any differently than the rest of the knit fabric. I've tried slipping every first stitch, knitting every first stitch, and so on, but have come to the conclusion that it doesn't help me one way or another, and just adds one more thing to remember. Therefore, on the right side, I knit all the stitches, including the edge stitches, and purl all the stitches on the wrong side.
Now, if the edge isn't going to be hidden in a seam, it's a whole different story! Slipped stitches, seed stitch, picot edging, Annie Modesitt's modified i-cord edging… I love it all! If I'm looking for new ideas, I can always consult my Montse
– Edges and selvedges, pp. 181-186.
2. Seaming allowances My edge stitches are always a bit wonky, and I like to hide all the irregularities inside the seam. In my case, this requires allotting 1 full stitch on each edge to be eaten up by the seam. Once in a while, especially when knitting a rather dense fabric, I can get away with 1/2 stitch on each side, but I usually don't temp fates and stick to 1 full stitch. I always include the extra stitches in my calculations – if I determine my sweater's front needs to be 100 stitches wide, I cast on 102.
With respect to ribbing, I like to put the seam between two knit stitches. I bet this is not universal, though. For me it results in the most invisible seam, as deduced through trial and error, nothing more. So, on the right side, I'd work something like k2, *p2, k2*, then eat up a knit stitch from each edge when I seamed.
What about the added bulk in the seams? Isn't that a good enough reason to take in a half of a stitch rather than a full one? Generally, I allow myself to be totally reckless with my knitting (oh, the hubris!) and iron the seams to make them flat (e.g., my Pentagon Pullover). I'm absolutely convinced that ironing the seams makes the wearer seem 10 pounds lighter.
The one instance where I seriously ponder the bulky seam situation is baby garments. If the whole sweater is 40 stitches wide, even a stellar ironing job can't hide 2 stitches in each seam. While I'm not a huge fan of knitting adult sweaters in one piece, it makes more sense with baby stuff, don't you think? They're just a big pile of puddin' anyway :).
3. Placement of increases/decreases Considering 1 stitch is eaten up by the seam, I typically place my increases and decreases 2 stitches away from the edge: k2, k2tog, knit to last 4 sts, SSK, k2… or, k2, m1left, knit to last 2 sts, m1right, k2.
4. Seaming yarn As I noted in my last post, I don't always use the pattern yarn for seaming. I think the most important characteristic of a yarn used for seaming is smoothness. When using mattress stitch (aka, ladder stitch, invisible seam, weaving, or vertical grafting), the seaming thread is almost perfectly vertical, meandering just a tiny bit to catch the running threads. Meaning, you can pull at one end of the thread, and the other end will retreat/shorten. This allows wonderful precision when it comes to the length and tautness of your seams if the seaming thread doesn't give you any beef when you tug on it. Anything nubbly, hairy, or prone to breaking doesn't strike me as a good yarn to use for seaming. Just ask yourself, "will this give me any trouble as I pull it through hundreds of inter-stitch spaces?"
5. Actual protocol Now we're getting to the truly unorthodox :).
Many people leave long tails of yarn when casting on, and then use those lengths of yarn to complete the seaming. As long as the yarn is smooth (see #4 above), I see nothing wrong with that strategy. I myself used to do that all the time, and still dabble in it once in a while – 3-needle bind-off at the shoulders comes to mind.
However, recently I've moved away from this technique.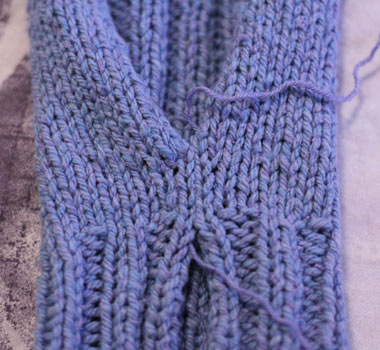 First, if it's not too much trouble, I like the elements of a sweater to line up nicely. I want the decreases/increases to be right next to each other; same for the point where the ribbing ends. So, I take a darning needle threaded with a brand new length of yarn, pick an obvious design element, and start joining there. If things aren't matching up, I pull the thread out – it usually takes just a few tries of two or three stitches each to get a perfect match.
I started doing it this way because so often I'd begin seaming at the cuff of a sweater, and 3 inches later, when I encountered my first increase, I'd see that the two sides were off by 2 stitches. Ug!
I think you can see that the seam will travel in two directions from the "seaming epicenter," so make sure to leave a good length of yarn for both sides.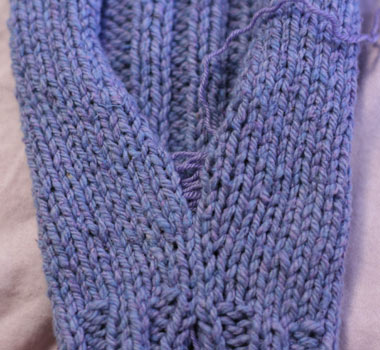 As I seam, I weave the yarn somewhat loosely through the running threads for about an inch or so, then pull it taut. But not too taught! As I mentioned in section 4, the seaming yarn travels through the edge rather unobstructed. In fact, think of the seaming yarn as a shower rod, with the knit fabric slipping and sliding on it like shower curtain rings. You can imagine crowding the entire shower curtain in one spot, or distributing the width of the curtain unevenly along the length of the rod.
Same with mattress stitch – yank on the seaming thread a bit tightly once, twice, three times, and one sleeve comes out an inch shorter than the other.
Ask me how I know :).
So, returning to the instructions, I weave the seaming yarn through about 1″ of fabric, pull the yarn until I sense resistance, then gently tug on the fabric to make sure it's not too tight. Ruching is a fabulous technique, but I'd rather leave it out my sweater seams.
By the way, using an unattached length of yarn to do the seaming is very helpful in achieving the right spring in the seams – both ends are free for pulling, tugging, undoing, etc.
Another reason I enjoy this seaming strategy is because it allows me more control over finishing the edge of the cuff.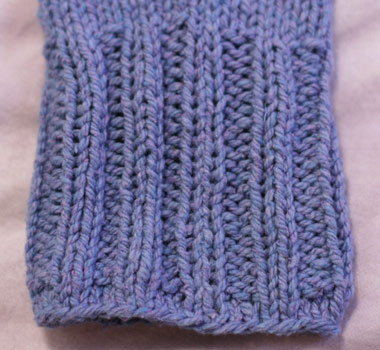 When the edge of the cuff is the first thing to be seamed up, it's hard to determine which exact yarn loops need to be joined, and in what order, to give the most invisible result. When approaching the edge from the center of the seam, nothing could be simpler!
In addition to the seaming yarn securing the two sides of the fabric together, I usually use the pattern yarn (tail left over from cast-on) to make a few stitches at the very edge, too. Just to add that last polishing touch.
Postscript Why the hell am I so wordy today? Did you really make it all the way to the end?!? On the plus side, now I have it all written down, for the next time I'm asked about seaming in the comments or e-mails.
0
likes