No, I haven't dropped off the face of the Earth. I've just been skiing.
I never fool myself into thinking I know it all, though it's easy to approach that level of delusion when cranking out a pair of socks every other month or so. Really, what else is there to learn about socks? I've knit high ones and low ones, plain and fancy ones, lacy and cabled ones…
Smack!!!
That's the sound of the knitting goddess smacking the hubris right out of me!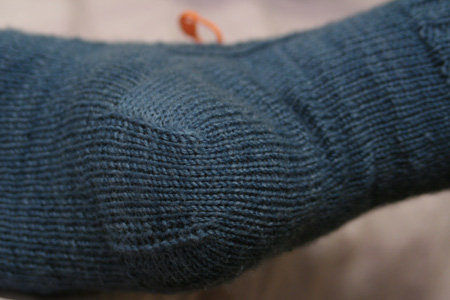 Check out that heel! Now that's new! After hailing the Nancy, I cracked open one of her testaments
and learned that this is called a square heel (in contrast to the round heel I typically work). And it's not just a different name – it fits differently, too! I think it's more snug, though it's hard to tell without wearing the sock for a bit. I will have to rely on my grandma to tell me how she likes it.
I suspect many of you are familiar with the square heel, but honestly, this is the first time it's registered in my mind. Cool!
And with that, I cast on for the second Canal du Midi sock. No fewer than three times… because "modifying the pattern ever so slightly" doesn't mean I should forgo jotting down the mods. Oops! I had to do a bit of deconstructing to figure out what I had tweaked. We live, we learn.
At least I've marked where I stopped the ribbing and where I started the heel. For now. Until I forget the meaning of those stitch markers and get rid of them out of habit :).
0
likes