Another thing I mentioned on Guido's podcast is a new pair of socks for my grandma: Canal du Midi from Nancy Bush's Knitting on the Road
.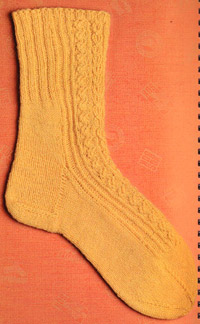 Oops! (again)
I blabbed all about it, but I hadn't even cast on!
Considering my latest guilty admission, I know you aren't surprised.
Over the past few days, I rectified the sticky mess I had gotten myself into, and now I'm nearing completion of sock #1. Good save!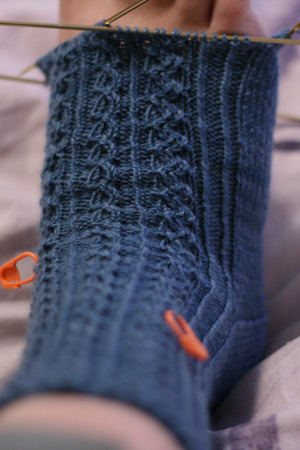 I chose to knit this pattern because I loved making Traveler's Stockings from the same book, and twist stitches figure prominently in both designs. Coincidentally, my grandma ended up giving her Traveler's Stockings to my great aunt (with my full consent), so this latest pair will restore her sock drawer to its proper state (overflowing, ahem).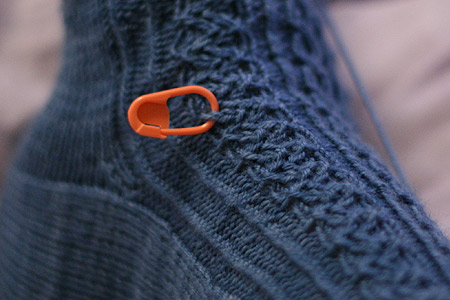 It's curious that I haven't seen too many Canal du Midi socks out there… though Carolyn has knit a pair, of course. I think the photo in the book is to blame – they just don't look fabulous in it, almost like they still need to be blocked.
One look at the chart, however, and the potential is instantly realized – these will be cute, no doubt about it! Wouldn't you know it, the chart didn't lie.
I did modify the pattern ever so slightly: got rid of the small band of ribbing at the top, and added a few stitches in the center panel where I thought they'd balance the design. Nothing major.
The needles are my favorite US 0 Susan Bates
, the yarn is my favorite Lorna's Laces Shepherd Sock in the denim colorway, purchased from my favorite LL supplier. Predictable? Who, me?!? 🙂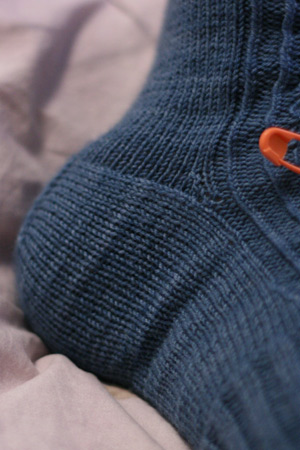 0
likes