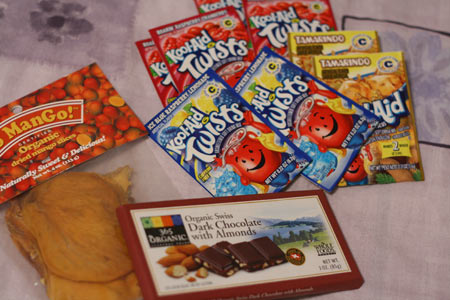 Why am I showing a picture of these sweets?!?

When Amy submitted the 550th pair of Jaywalkers to be added to the gallery, I was thrilled that she selected a sock pattern book as her prize! (Also, 550 JWs??? Pinch me, I'm dreaming!) Unfortunately, it took me more than a month to get Amy the book I had in mind, Knitting Vintage Socks
by Nancy Bush. Boo on me! These additional goodies are a small and humble attempt to sweeten her up a bit – mea culpa :).

Please don't be discouraged by my lateness, and keep submitting your FOs – there's a prize to be had for every 50th Jaywalker to be added! Seriously! Right now there are 573 JWs in the gallery, with a small queue waiting to be added. Very close to 600, my friends :). (some submission guidelines here).
Speaking of Nancy Bush and Knitting Vintage Socks…
In case you didn't get enough of my voice the first time around, Guido has once again let me crash his podcast, It's a Purl, Man! I had such a great time chatting with him.
Some of the things I said may have been a little… silly :). I may or may not have said, "All Hail the Nancy Bush!" and praised bamboo as the ultimate renewable resource. Oops!
For your silly Grumperina fix, visit Guido's blog!
0
likes