Let me tell you this – sewing gives "instant gratification" a whole new meaning.
I had an utterly craptastic day yesterday. Oh, don't worry – I'm fine, my family and friends are fine, my personal and professional lives are just dandy… but what the hell is up with this weather?!? I thought nothing, nothing could be worse than my walk to work yesterday, when the shit of hell itself was falling down from the sky, bombarding me from every direction. But I was wrong! My walk back home at the end of the day was a ballet through an icy slurry, leaping from this pile of ice to the next, and still ending up cold and wet from head to toe.
Ug.
I got home, changed my clothes, and thought, "I don't want to knit right now. In order to lift my mood, I want a finished project by the end of the night! Sewing to the rescue!"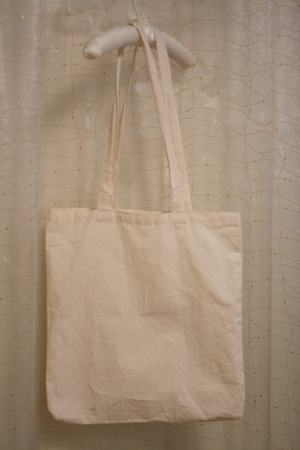 I'm a big fan of totes – so simple, yet so practical! I have at least 3 or 4, but always reach for my favorite: a simple cotton one with thin, long-ish straps. I don't know what it is about this one that makes it different, but the size always seems to be right, and the straps always stay on my shoulder. Love it!
But, there's a slight problem: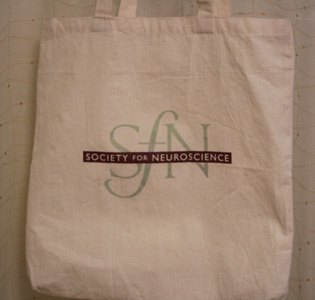 Nothing screams "geek" like a tote proudly announcing that I'm a member of the Society for Neuroscience to every passerby!
Upgrade? I think so! For several weeks now I've envisioned a perfect tote upgrade, and yesterday was the perfect day to crank out a little cuteness.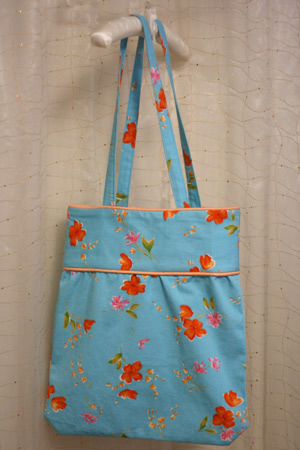 Tada! I absolutely adore this bag! If it looks familiar, it's because I used fabric and piping left over from my June Cleaver apron.
I didn't use a pattern and made this very much freeform – just my fabric, a ruler, a rotary cutter, and the SfN tote to use as a guideline. I'm especially proud to have conceived and created this project without the help of my sewing teacher, and using my own tools and sewing machine. Finished in one night, too! Very gratifying.
I'm starting to feel very confident about sewing, and I think my teacher will be delighted with my construction and finishing when I show this to her.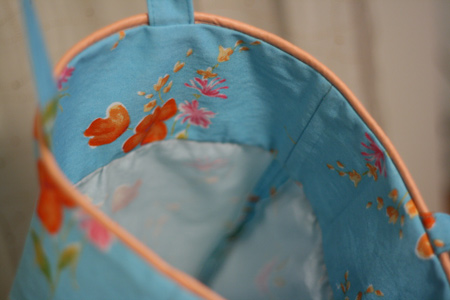 As for the details, there aren't too many to report. The upper portion of the bag is fully lined, and the lower is joined with a slight ruffling. Overall, I gave the bag a slight pear shape – I don't like my stuff to be visible to the whole world.
And the geeky tote? There's a time and place for everything, so I'm holding on to it. However, when prancing around downtown this weekend, I'll be using my upgrade :).
0
likes