Mohair. Seriously. What was I thinking?!?
My grandma, like many Russian women, is not afraid to express her opinion. And when it comes to color, periwinkle is it. Not just any ol' periwinkle… no, no! Periwinkle as dyed by Lorna's Laces.
First I used the Shepherd Sock variety to knit her a pair of periwinkle socks. Next, I used Helen's Lace to knit her a periwinkle shawl. This was followed by a third 'periwinkle incident' – I'll tell you about it one day soon.
When grandma requested a periwinkle beret, I had no choice but to turn to Lorna's Laces once again.
This time, it's Lorna's Laces Shepherd Sport.
I decided to follow Kate Gilbert's Speckled Beret pattern (IK Winter 2005) even though my gauge is not even close. I just like the way it looks: not too slouchy.
I was intrigued by the speckles, naturally (love swirly motifs!), and wanted to knit them using something fuzzy so that they stand out against the plain wool background. Mohair and angora immediately came to mind, even though I'm allergic to both. Reasoning that it was only a few stitches, I decided to go for it and purchased a skein of Rowan's Kidsilk Haze in Violetta.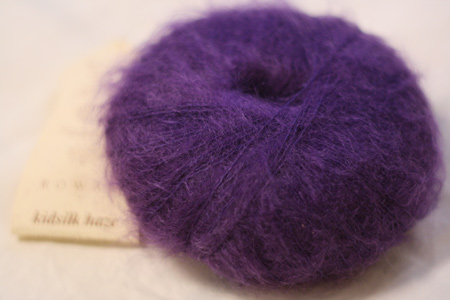 Well, Violetta kicked my ass. I lasted about 5 minutes before my face was so itchy, I had to toss the mohair straight into a Ziploc baggie, and hide it in the depths of my stash.
Should've known better.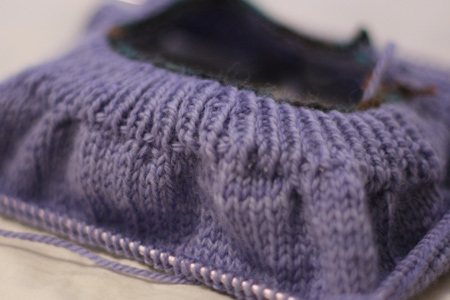 Now I'm knitting the beret perfectly plain. Come to think of it, I'm guessing grandma would prefer it this way. Plus, without the mo-hairy tangle, it makes perfect travel knitting.
That's right – travel. I'll be away for about a week, and I don't think I'll be blogging from the road. As always, I'm anxious to pack just the right amount (and type!) of knitting, and not forget any important notions. Just in case I finish this beret on the road, I think I will bring my Brilliant Retro sweater. Hey! Same IK issue! Woohoo!
But first I have to squeeze each of my toiletries into a 3 oz. container. Because my shampoo is way more dangerous than an arsenal of pointy knitting needles :).
0
likes