And here, my friends, we have a nearly finished Brilliant Retro sleeve: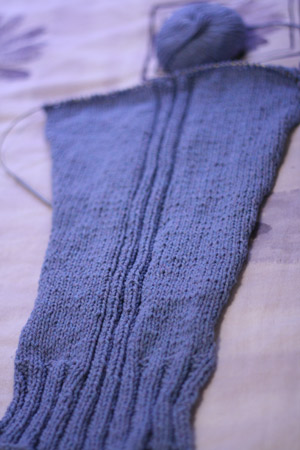 Indeed, this Cobalt colorway of Classic Silk is remarkably close to periwinkle.
And over here… the other sleeve, two fronts, and a back: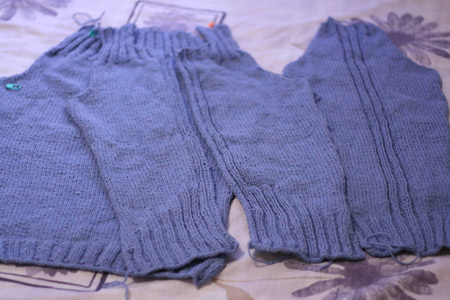 Just like that, my Brilliant Retro is nearing completion. Although I'm using wee US 6s, Classic Silk knits to 5 stitches per inch in my hands, so the fabric grows very quickly. Combine that with a pretty mindless pattern and a non-splitty yarn, and you get Progress with a capital "P."
I wanted to post at least once before it's time for the FO report – otherwise there will be too much to unload all at once.
First, is there such a thing as following a design rather than following a pattern? Because I think that's what I'm doing with the Brilliant Retro. My knitting tension is so drastically different from the pattern's, that it makes no sense to convert the instructions line by line. On top of that, I'm ignoring the specified finished dimensions and aiming for something that'll fit like my Pentagon Pullover (but a little bit longer). Is my Pentagon Pullover proportioned differently than the corresponding size of the Brilliant Retro? I don't know! I'd certainly check if I was following the instructions :).
For the most part I just look at the photo and decide how to mimic the design. Case in point: apparently there's a line of ribbing on the back of the sweater, which you can see on Frecklegirl's Brilliant Retro. However, there's no photo of the sweater's back in the magazine, so my BR doesn't have it! Didn't even realize it until Jess pointed me to her FO, at which point I was already done knitting a plain back.
Another example: see the little ribbing on the sleeve cap?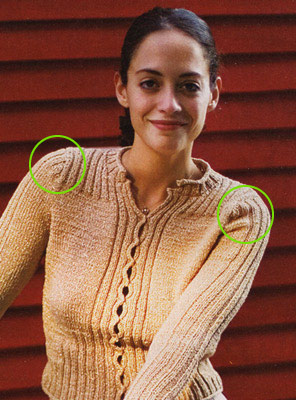 My sweater will feature this cute detail because I noted it in the photo. As it ends up, the written IK instructions omitted the sleeve cap ribbing for some reason (not in the errata either). That's a shame, because I think it adds to the design.
One last thing – I'm finishing the front pieces with Annie Modesitt's signature edging (last mentioned here), which looks very neat and polished without any extra work. Amazing as always.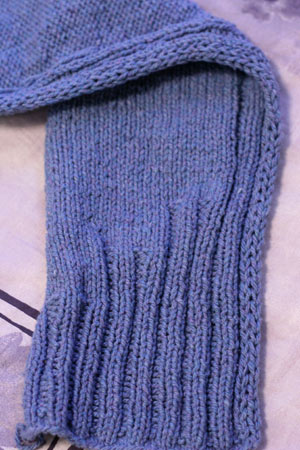 1
like