As I searched for the perfect beret pattern for my grandma, I came across every conceivable size and shape variety: snug at the base and puffy up top, slouchy all around, wide and flat… you name it! The possibilities didn't stump me – fortunately, I know my grandma, and I know exactly the type of head topper she has in mind. However, the web-searching and magazine-flipping made me keenly aware that my knitting would be able to produce a multitude of styles, and that I had to proceed with caution (grandma being as selective as her granddaughter).
It seemed to me that, if in doubt, I should err on the small side, since puffy and slouchy are definitely not grandma's cup'o'tea.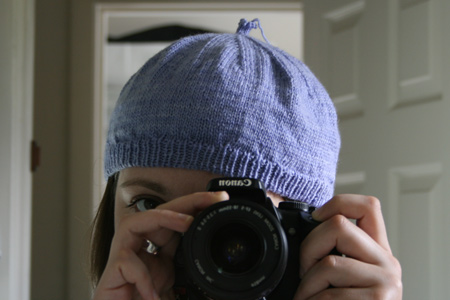 This is what you get for being overly cautious. Not so much a beret as a… Kufi. Gotta give that bad boy some oomph! Both horizontally and vertically! And this time, I'm using a circular needle – too many stitches for dpns at the widest point.
In other news, air travel was entirely uneventful, maybe even… bordering on comfortable! Look – courtesy slippers as you go through security! Nice!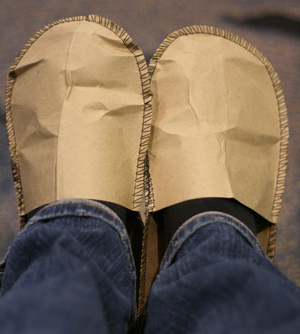 0
likes