I think I first saw it on Alison's blog: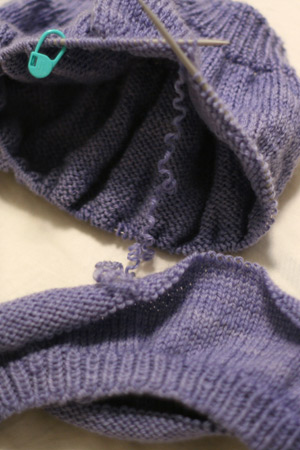 I know – remembering another blogger's posts from a year ago is a bit unusual. My memory is a little scary, what can I say? 🙂
When frogging and reknitting something, I often refresh the yarn first – wind it into a skein, dip it in some tepid water, and hang it to dry. It straightens out the kinks and makes the yarn feel like new.
In some instances, however, I knit with the used yarn, kinks and all. If I'm in a rush, for example, which is the case here. Or if I'm not positive that I'm knitting the last and final iteration of the project. Unfortunately, the case here again.
Although I can tell that this beret version is an improvement over the Kufi, I am not sure I've made it pouffy enough. Try as I might, I find it really difficult to tell how the beret will come out while it's still mid-completion.
At least the increases are more pleasing. In the first version, while I was still mimicking Kate Gilbert's Speckled Beret, I increased over 3 rounds using the knit right raised increase (June Hemmons Hiatt
, p. 68). In the second version, I'm increasing all the stitches in one round, as recommended in Ann Budd's The Knitter's Handy Book of Patterns
and Charlene Schurch's Hats On!
. Furthermore, I found that a simple bar increase looks fantastic when worked at regular intervals after 1 X 1 ribbing. See for yourself!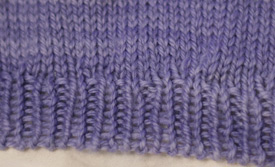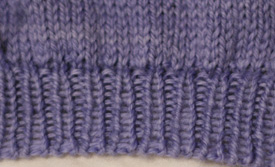 On the left, increasing over 3 rounds using the raised increase; on the right, increasing all in 1 round using the bar increase.
One last note, triggered by today's post from June: although I've tried a variety of tubular cast-ons, I'm partial to the yarn-over tubular cast-on (Montse Stanley
, p. 79). It looks good, functions perfectly, and makes sense to me visually, so I'm able to do it even without a book in front of me. Just like you, June!
0
likes