From Kufi to shower cap: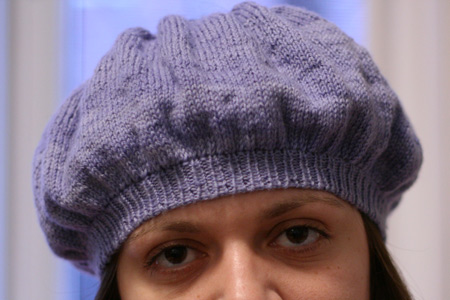 And this isn't even my second attempt – it's my third! The second was a slightly pouffier Kufi (i.e., still not pouffy enough).
This, however, is so pouffy, it needs its own zip code. I went with this particular level of pouffiness because it seems most store-bought berets are about 11″ in diameter. Apparently when an 11″ diameter is applied to a handknit, you get a shower cap.
And the ribbed band is ever-so-slightly too loose. And I've run out of yarn – though the beret looks complete in the photo, there's a grapefruit-sized opening at the crown. It irritates me so much to think that certainly there will be enough for a properly sized beret, somewhere between a Kufi and a shower cap.
Insert your expletive of choice here: __________
I will get this right. Not only to please my grandma, though that's reason enough. She's mentioned to me that my Great Aunt may also want a beret, so I really want to figure this out for any future requests!
In summary:
Kufi = 169 stitches (~ 7.7″ diameter)

pouffier Kufi = 180 stitches (~ 8.2″ diameter)

shower cap = 240 stitches (~ 10.9″ diameter)

grandma's beret = 220 stitches (~ 10″ diameter)
Cross your fingers that my fourth attempt will be the last one (though I'm still not refreshing the yarn… don't want to seem overconfident :)).
0
likes