Unfortunately, I did not grow up watching Leave It to Beaver. But I understand that June Cleaver would have gone nuts for an apron like this: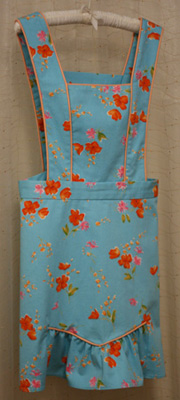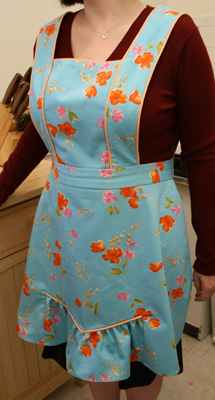 Though I don't have a string of pearls to hang around my neck, I promise I was wearing my pearl studs :).
Pattern: Butterick 6567, Vintage Aprons, version A, size medium.
Materials: heavy-weight cotton and piping from Winmil Fabrics. Though I'm not sure how much of each I used, I know it was dirt cheap – the cotton was $3/yard, and the piping less than a dollar/yard.
I'm entirely predictable, it seems. Finished the skirt 7 months behind schedule, and the apron is at least equally tardy.
The vintage details which initially attracted me to this pattern took a lot of time to get just right, especially by a novice seamstress like myself. But I think you'll agree that it was time well spent:
from left to right: princess seams for structured coverage; flouncy ties; overtly cheerful flower fabric, with even louder orange piping; gathered ruffle at the front.
I know I have to show you the inside finishing, too. In this case, no problem, since I'm quite proud of my work. You see, with the exception of the skirt, the entire apron is lined. Lots of turning pieces inside and out, with the rest of the apron squeezing in for the ride. Thank goodness for hump jumpers!
from left to right: the apron is lined almost in its entirety; inside of waistband, where I had to do a bit of hand sewing; joins look as neat inside as they do on the outside.
I admit that I received a lot of help from my sewing teacher with this project, especially when it came to lining the 7 pieces which make up the top of the apron, all while finagling piping into the seams. But the basics are starting to settle in – selecting a pattern and fabrics, cutting, pinning, reasoning how the pieces go together, using the appropriate features of the sewing machine… I'm feeling good about this sewing thing!
If I only felt that good about… cooking!
0
likes