I'm nothing if not persistent. Despite the look in my eyes, my thoughts went something like, "must finish taking photos and posting, so I could rip that sucker and try again! Bwahaha!!!" I soldered on as though I was casting on for the very first time, filled with enthusiasm and hope.
It will be the right size.
I will not run out of yarn.
The worn yarn will spring back to life when I block.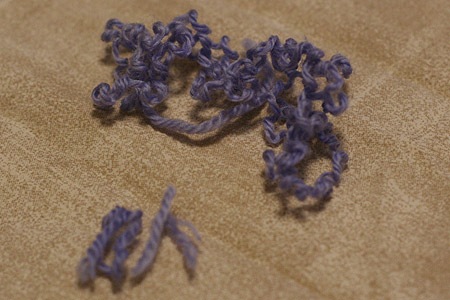 Done and done. Although the yarn has been dwindled down to a mere yard, my optimism has not diminished.
The kinked stitches demanded a thorough blocking, so I tossed the finished beret into the washer, woolens cycle, and it's now drying flat on top of the radiator. Lorna's Laces did not disappoint (has it ever?) – the superwash Shepherd Sport came out silky, even, and fluffy.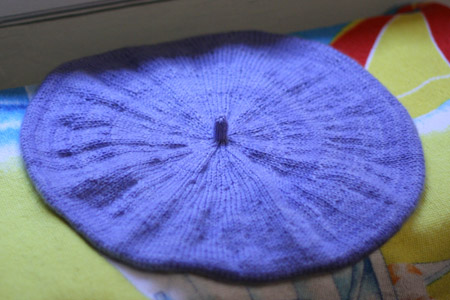 The true size and shape of the beret will be revealed only after blocking, but a trip to Macy's and Lord & Taylor this weekend suggested that I'm on the right track. It seems that knit berets (as opposed to felted ones) run about 10″ in diameter, and often have thin elastic running through the cast-on to ensure snugness. Will. do.
Let us think good thoughts :).
0
likes