I extend my deepest, most sincerest gratitude for your enthusiasm and support of Roza's Socks. I feel a great sense of relief – until Tuesday, only two other people had seen the design (plus the Interweave Knits editors), so understandably I was a little anxious about the moment everyone would finally see them. Your reception of the pattern brightened my day, brought many smiles to my face, and encouraged me to keep pushing my knitting limits. Thank you!
I want to share some knitting progress photos with you, but frankly, I'm beyond exhausted right now. Briefly, I'm almost done with the main pieces of the Brilliant Retro cardigan, and I'm brainstorming a plan for the Komi Hat. With respect to the latter, I consulted Emily, who gave me some great advice about knitting a hat from the top down – the chart and instructions for her Latvian Hat will be very useful to me.
Since (1) no post is complete without a picture, (2) it's Eye Candy Friday, and (3) my neck of the woods is brrrr-brrrr-cold right now, I want to thank you with an image of warmth and tranquility: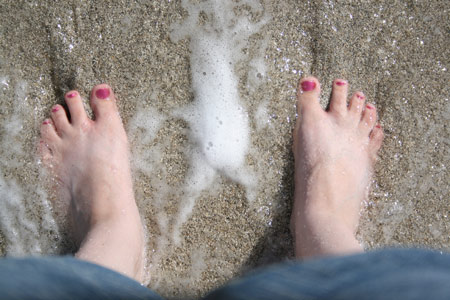 As far as this blog is concerned, my feet are usually fleshy stumps modeling handknit socks. But here they fulfill a different role – enjoying the warmth and sparkle of the Atlantic Ocean.
And before I forget – grandma loved her beret. Mission accomplished :).
0
likes