Imagine my shock when I took one of my favorite wool sweaters out of the closet and discovered… a hole.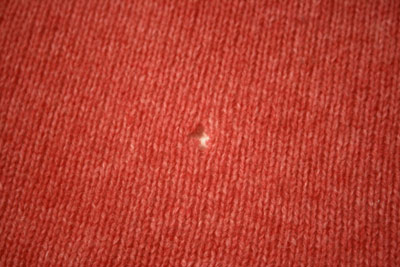 Not just any ol' hole… a hole smack in the middle of my bosom, stretching and morphing into the epitome of poor taste and ugliness as soon as the sweater was pulled on.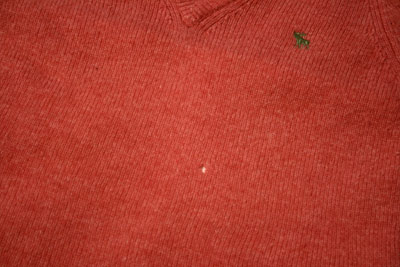 I spare you a modeled photo. It's for the better – trust me.
At first I wanted to toss the sweater all together – it didn't come with a bobbin of extra yarn, and even a near match wouldn't be good enough in such a prominent location.
Stupid hole. If only it was on the side or the back: then I could darn it and continue wearing the sweater.
Wait a minute…
What if I unraveled a little bit of yarn from an inconspicuous location and used it to darn the hole on the front of the sweater? Then I'd have a new hole, yes, but it'd be in a spot where a near match would be good enough. Just like when veins are harvested from the leg in order to repair the heart.
And so I did.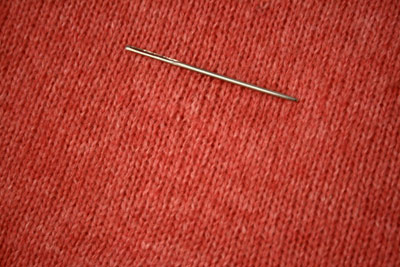 I snipped a stitch in the armpit of the sweater, unraveled a few inches, and used the length to close up the hole. Pretty pleased with the results, too – the former hole is about 5 rows below the needle.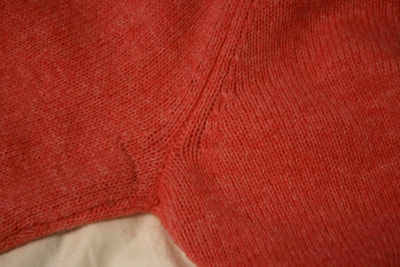 As for the hole in the armpit, I closed it up with some rose yarn – definitely not an exact match, and it would never do for a hole smack in the middle of the front of the sweater. But for the armpit, definitely good enough :).
0
likes