But I think it's an important one 🙂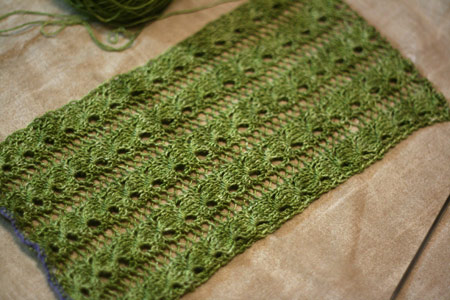 After completing a good 10″ of my Melon Scarf, I inevitably became curious about what I'll get at the end – how long will 1 skein of Hand Maiden Sea Silk last? Naturally, my curiosity was colored with a bit of concern – just the way I am.
With the help of my handy
balances and careful note keeping, I estimate that my scarf will be 57″ long, prior to blocking, if no border is attached. Of course I want a border, so some length of yarn will need to be reserved for that.
Most likely I will omit the fancy (read: yarn-consuming) border recommended in the original pattern, and substitute something daintier from one of the other scarves in the book.
I'm thinking of knitting the main panel until I've completed about 45″, then starting the border with the remaining yarn. I'll be keeping track of how much yarn I have remaining, and if it looks like the border is consuming little, add onto the center panel. If the border ends up needing a lot of yarn, take some away by frogging. A give and take of sorts.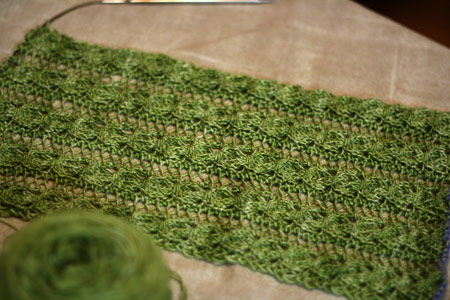 It's interesting how the fabric looks completely different from another angle. I love this stitch pattern!
0
likes