Many of you already know about picking up gusset stitches the pretty way. As I've mentioned, I discovered this technique as a happy accident, though the instructions can be found in a number of Nancy Bush books
.
I think the result is decidedly feminine, which suits grandma's Traveler's Stockings perfectly: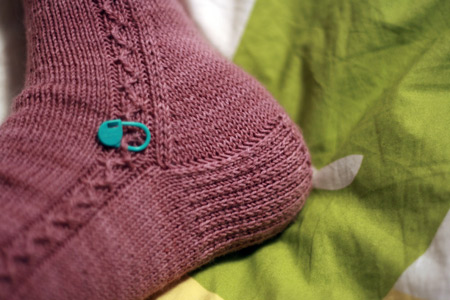 left gusset
Knitting the slipped stitches through the back loop creates a sort of hatch, which effectively closes up any little holes along the gusset.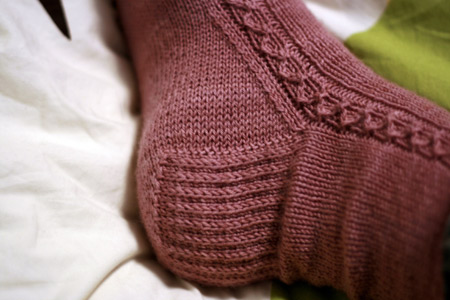 right gusset
The two gussets look slightly different, but I find that's the case no matter how one picks up the stitches.
——-
With Traveler's Stockings nearing completion and the Melon Scarf threatening to become the only WIP, my thoughts shift to Fair Isle projects.
In particular, the Bea Ellis Kristen hat kit I received from Ashley has now been expanded into a hat and mitten set, thanks to Eunny's newest creation, Anemoi Mittens. That, and the fact that Ashley herself knit a hat and mitten combo which exudes nothing but warmth and coziness.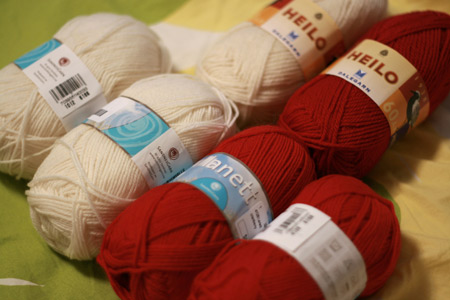 I picked up some SandnesGarn Lanett in colors matching the Dale of Norway Heilo included in the hat kit. Lanett is new to me – the colors were right, I thought it felt softer than Baby Ull, and 213 yards for $6 is not too shabby by any standards. More thoughts once I actually start knitting with it…
Also on the radar: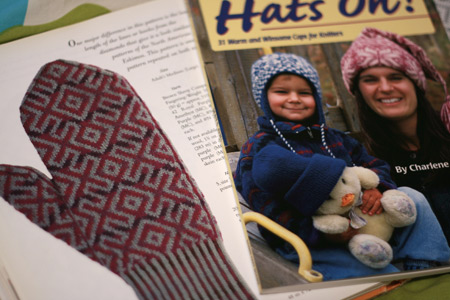 Some combination of the mitten pattern you see on the left (from Charlene Schurch's Mostly Mittens
), the Komi Cap in Ms. Schurch's Hats On!
, and a variety of blue and gray yarns, possibly Lanett if I can get the right colors. Allow me a few moments (weeks?) to think this project through before I tell you more…
0
likes