I'm so glad you liked my Melon Scarf. I want to add that this project is very practical, especially during a warm winter like the one we're currently having.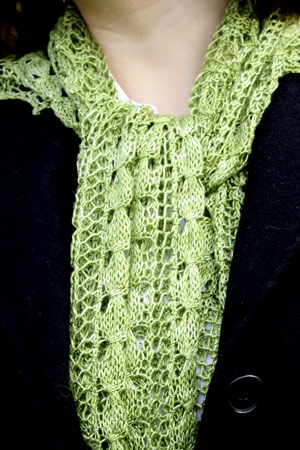 I wore the scarf all day Monday, looped around my neck and tucked under my coat – not too bulky, very soft, just the right amount of "pop" under a black coat.
Onward!
As I worked the last few rounds of the Kristen hat, I eyed the dwindling skeins of yarn nervously. I was certain that white, the contrast color, would last to the end, but the red skein seemed to be set on giving me a small heart attack.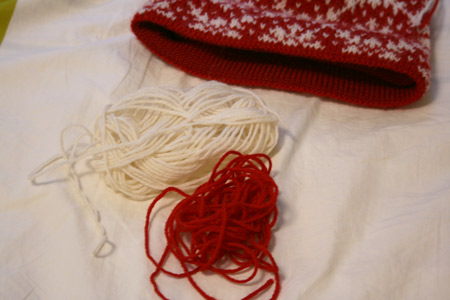 Imagine my relief when I reached the end of the chart and didn't run out of yarn! Good thing I wasn't planning on adding pompoms, tassels, or braids. Wheww!
All along I kept in mind that Ashley had to go down several needle sizes to get gauge when knitting her Bea Ellis hat. In my case, I ended up using the recommended US 5s, and my tension is actually a bit tighter than what's specified in the pattern; my hat, more snug than expected.
But while worrying about getting the right number of stitches per inch and a reasonable hat circumference, I didn't pay attention to how deep my hat was coming out. It seemed kind of long, but I noted the fast rate of decreases at the crown and kept on knitting.
Result: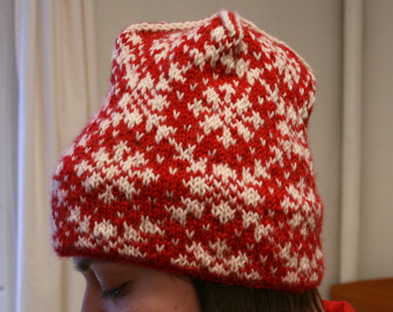 Is it just me, or do I look like the Guy with the really big hat?
As you may have noted, I like my hats more shallow. Even so, this puppy is so high, I could stash a few skeins of yarn in there!
I've already frogged this project way too many times to go through it again (all trying to get gauge… stupid gauge), so I did the only reasonable thing – cut off the bit that was too long!
Yeah. Reasonable.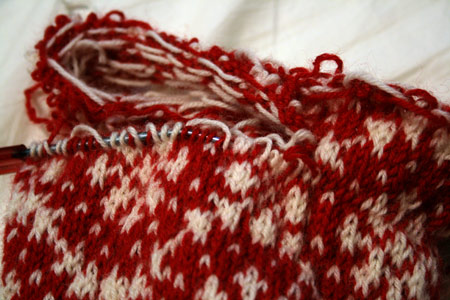 Stockinette fabric, especially one worked in the round, looks the same when knit from either direction. I figured that this hat was "stockinette" too, just a two-color stockinette.
We live, we try, we learn.
Now I know that the complexities of stranded knitting result in all kinds of weird loops at the starting edge. I think I know how to deal with it, though. And anything is better than looking like the Pope.
0
likes