I'm entirely unable to resist knitting socks for my grandma. She is a wonderful gift recipient, claiming each pair is "perfect" and "the best ever." I'm certain Traveler's Stockings will be received with delight and thankfulness, like all the others.
However, I think I need to pause with the grandma sock knitting for a bit. When I visited in November, I learned that grandma has too many handknit socks: apparently, she hasn't even had the chance to wear some of them! I'm not surprised – we've had a rather mild winter, and she's received four new pairs since August!
And so, instead of choosing socks as my portable project of the moment, I turn my attention to some hats and mittens.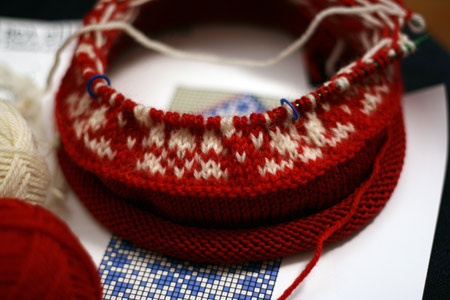 First up, the Bea Ellis Kristen hat kit I received from Ashley.
I'm enjoying this project for all the typical reasons – great pattern, portable, two-color fancifulness, pretty… But I find something else about it to be a major thrill – it's woolly.
The yarn used in this project, Dale of Norway Heilo, is honest to goodness wool – I revel in the furriness and fuzziness, the smell of the sheep from which it came, the way stitches refuse to drop because the fibers instantly stick to each other.
In my world of cotton blends, silks, and only the most tightly-spun and smoothest wools, elann's Peruvian Collection Highland Wool is the closest I've ever gotten to using a yarn like Heilo (I used it to knit a zipped cardigan set for a friend's son).
That was two years ago, and now I'm back to feeling one with the sheep.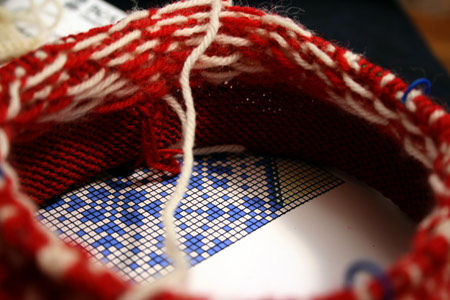 Oh, so furry on the needles…
0
likes