A note: I realize this post may be a bit much for those of us in holidaze. But for the rest of you, there are words, and a good number of 'em, below. Then some pictures :).
Despite my initial plan to start the border attachment at 45″, I caved in at only 40. Impatience? Early stages of boredom with the center panel? Fear of running out of yarn? Likely, a combination of all three.
Knowing that I'd be substituting a daintier border for the recommended one, and having little experience in "border attachment" matters, I studied the instructional sections of Victorian Lace Today
.
After a few readings, I felt I had a good handle on the vocabulary used in the book (single, double, triple joins), and understood the mathematics of attaching a border: ratio of border rows to center panel rows, including rounding corners. The instructional section also featured a border more narrow than in any of the actual patterns, so I decided to go for it.
That's when I ran into a bit of a headache. While terms like "knit through the back loop," and "knit 2 together," and "slip purlwise with yarn at RS" make sense individually, they morph into a head-scratching puzzle when combined together in border instructions. I found myself confused about the physics of border attachment – when to turn the work, when to move the yarn to the front or back of the project, where to stick the needle, and in what manner…
After starting and ripping 3 times, I decided to consult other sources. First, I revisited the Misty Morning shawl. That's a reliable source of instruction! (smirk) Next I took out Mountainash.
With MMS and MA at my side, the phrase blind leading the blind (rightfully) popped into my mind.
Nonetheless, I was able to extract some meaning by comparing and contrasting the patterns at my disposal. After considering the direction of attachment (clockwise vs. counterclockwise), and whether the border is attached after working a right- or wrong-side row, I came to the conclusion that the Melon Scarf center panel has to be facing me wrong-side up when the border-attaching stitch is worked. Otherwise, the yarn travels too many times around the shawl edge and becomes bulky.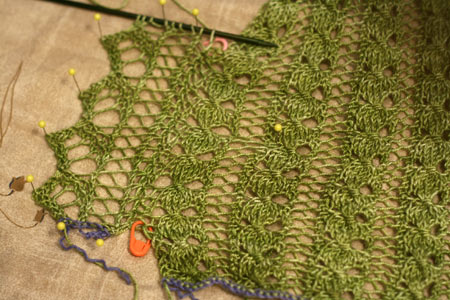 Well, at least that's what I'm thinking right now :). It seems to be working, so I have no reason to try something different.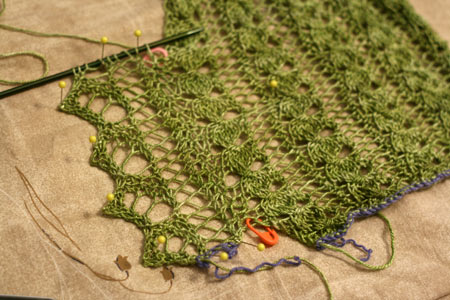 I think the border's large holes created by the double yarnovers go well with the openness of the melon stitch.
Balancing the amount of yarn dedicated to center vs. border is the only remaining mystery…
0
likes