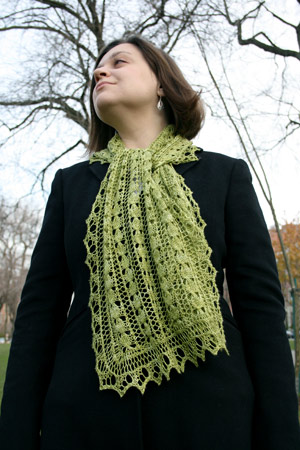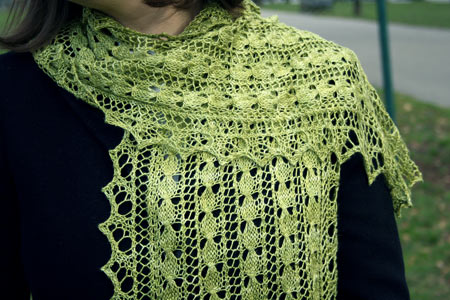 Pattern: Melon scarf from Victorian Lace Today
by Jane Sowerby (review/preview here)
Needles: Blunti Stumpos, US 4 (3.50 mm)
Yarn: HandMaiden Sea Silk in Moss, 1 skein (438 yards), used up almost in its entirety.
Finished dimensions: approximately 11″ wide and 56″ long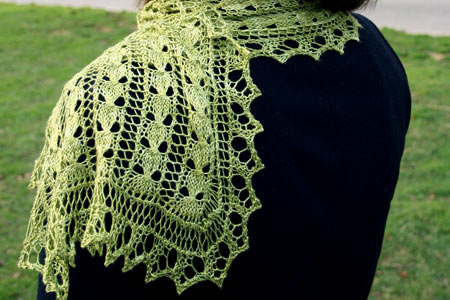 A gorgeous pattern, knit with divine yarn, with a most pleasing result – it will be difficult to top this one.
The melon stitch which makes up the center panel was ridiculously easy to execute and remember. What's more, it looks open and airy when spread out, full and textured when scrunched together – delightful either way.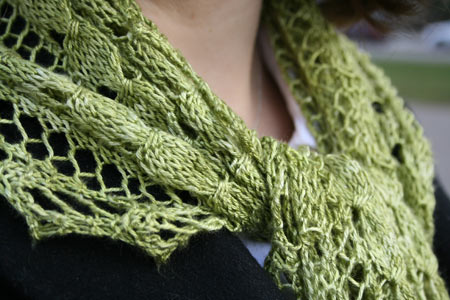 My modifications to the written pattern were slight, all driven by my limited quantity of yarn: I worked the center panel over 50 stitches rather than the specified 70, and substituted the narrow point border (p. 183) instead of the wider one suggested in the pattern.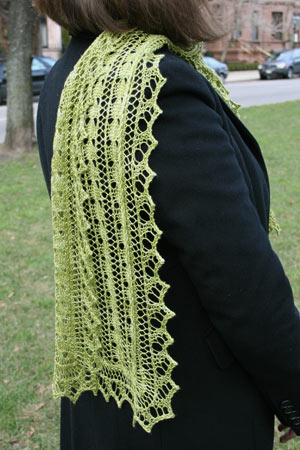 Attaching the border wasn't too complicated, and the instructions in the back of the book were very helpful when it came to rounding the corners. Only the short edge of the scarf gave me a bit of trouble – initially the border looked too bunched up. However, this situation was familiar to me, and a little fudging fixed the problem.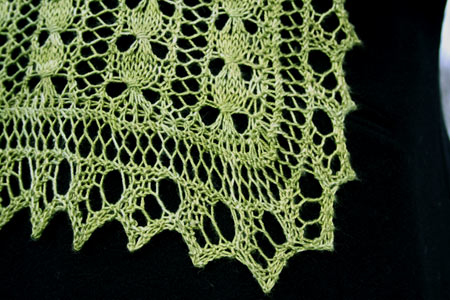 I found HandMaiden Sea Silk a little sticky when worked on plastic needles, but it moved along smoothly on Addis. The yarn has a soft and drapey hand when knit up, though the fiber itself is very tightly spun – no splitting whatsoever! At the same time, it's balanced, so no icky twisting on itself. I was worried about blocking such a firm and resilient fiber, but it really wasn't a problem.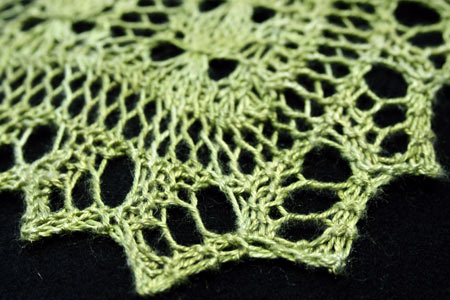 Last, of course I sniffed the yarn! With 30% SeaCell content, I expected a whiff of the sea every time I took the project out. But… I didn't smell anything, contrary to what so many of you have found. Maybe I got a faulty skein??? I'd absolutely use this yarn again to double check :).
0
likes