I always have the most difficult time coming up with names for patterns, especially when I admit to myself that, yes, names really do matter. Picovoli isn't the easiest thing to pronounce, and neither is Sharfik, and I can just imagine the conversation:
Knitter 1: What are you working on?
Knitter 2: Oh, it's a top-down shirt in cotton.
Knitter 1: I really like the way it looks! What's the pattern?
Knitter 2: I don't have it here with me… it has a really weird name that I always forget. Something ending in -li, maybe?
As a result, Knitter 1 never makes a Picovoli for herself.
On the other hand, Odessa and Jaywalkers are winner names – easy to pronounce and remember.
When faced with naming my dad's new scarf (as of today, not yet in his possession; Post Office, hurry up!), I nearly panicked. I considered giving it a color name, but I don't associate pleasant things with anything brown. I considered giving it a place name, but the only thing I could come up with is Volga. Pass!
An afternoon with some knitting buds rescued me from my indecision. One name in particular, suggested by Maritza, hit the spot: Shifting Sands.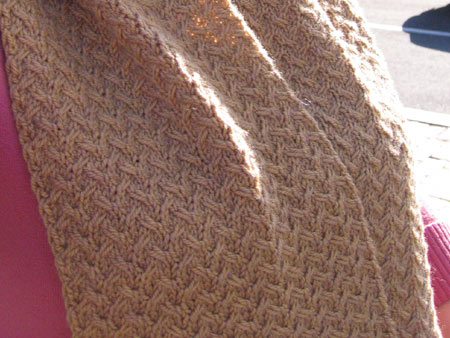 In my opinion, the name is very appropriate: the cables swish and swoop, meandering from one edge to the other. The resulting texture is that of sand, shifted over time by wind or water. It is an element of nature familiar to both me and my dad, having grown up on the coast of the Black Sea.
I'm extremely pleased to share the pattern with you for free, but please respect copyright boundaries. Also, may I suggest learning cabling without a cable needle prior to attempting this pattern? It will save you a lot of frustration ;). Enjoy!
1
like