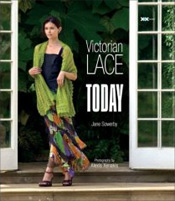 I hope you find my review of Victorian Lace Today by Jane Sowerby suffused with utmost excitement and delight. Truth be told, I had very high expectations for this book, and pre-ordered it from Amazon as soon as I got wind of it, sight unseen. I feel that I have not been let down – not since Norah Gaughan's Knitting Nature have I been so impressed with a pattern book.
This very sizeable tome features scarves and shawls from the Victorian Era (1830s – 1900s), a period during which women started to knit by choice rather than necessity. As a result, availability of printed patterns, knitting needles, and yarn blossomed, enabling Victorian Lace Today to exist in the present.
In addition to containing 38 patterns (you heard me! 38!), the book is slathered with gorgeous photographs, often portraying the same project from a variety of angles or knit up in different yarns. If that wasn't enough, there are historical notes about each of the pattern sources, and even a section about lace techniques – special cast-ons, bind-offs, understanding charts, attaching borders, blocking.
I'm not done! Last, but certainly not least, there's a basic primer on lace design – how charts come together to make a knitted piece, how to mix and match design elements from different patterns, and how to go about planning a shawl design from scratch.
The reason I'm embracing Victorian Lace Today so much more wholeheartedly than, say, Shawls and Scarves by the same publisher, is because it contains so many rectangular stoles and scarves; 26, to be exact (whoa wee!). Maybe it's just me, but I'm much more drawn to scarves than to triangular shawls. A part of me thinks that perhaps they are more practical, at least for me.
I've always felt that the variety of rectangular lace patterns out there is somewhat limited. That if I wanted to knit another triangular and circular shawl, I'd have no problems finding and selecting a gorgeous pattern, but I'd have to dig deeper to find a truly unique and challenging pattern for a lace rectangle.
My search has ended with this book – there are enough unique and interesting rectangles here to keep me entertained for life. I'm particularly excited about the number of scarves with wide borders on only two sides – quick to knit and immediately wearable. There are certainly exquisite triangular and circular shawl patterns in the book, but I feel that they aren't the focus here.
Please find a preview of some of the patterns in the extended entry; make sure to click on the thumbnail to see a bigger picture.
Last… did someone say nupps?!? And this melon stitch is just a nupp parading in camouflage, if you ask me :).
0
likes