Despite my initial lack of commitment to finish the votive sleeves before Thanksgiving, I pushed myself and got them done. My motivation: I visualized my mom's reaction to my own set of votive sleeves, her pleasant surprise that they were handmade, her shock that they were knitted, and the speediness of her request for her own set. (That, and the fact that I'm sort of project-less right now, mulling over various sweater, shawl, and sock patterns.)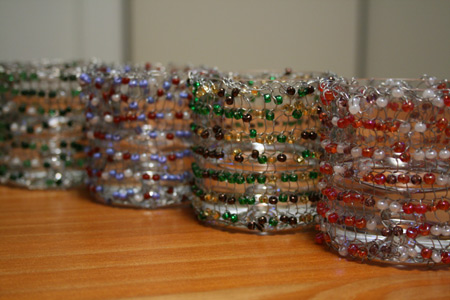 Wire Menorah/Votive Sleeves by Annie Modesitt from Melanie Falick's Handknit Holidays.
Most of the details did not change from the first time I knit these beauties. Every project is a learning experience, however, so minor improvements included using size 6 beads in colors that would show up against the silver tone wire, and using 26 gauge wire.
To follow-up on our discussion of appropriate wire thickness for knitting: many of you were shocked that I was using 24 gauge wire, but that is exactly and precisely what the pattern recommends. I guess I didn't know any better! I think switching to 26 gauge made the knitting easier and quicker, but I still felt like a giant throbbing blister the next morning. So, I maintain that taking it easy and knitting only a few rows at a time is the way to go.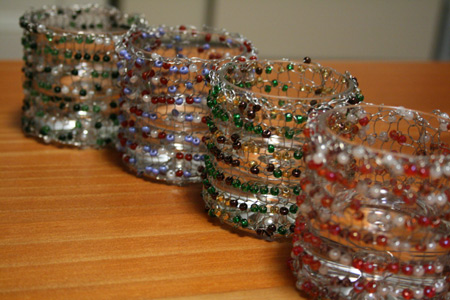 Of course I just plowed through the remaining three votive sleeves in three nights. Impatient? Who? Me? 🙂 Pass the Tylenol, please.
0
likes