I'm not the type of person who feels guilty often – it happens so infrequently, that if the trait is genetic, I'm clearly a mutant. But lately every time I pick up the needles, I'm flooded with guilt. Why? Because I'm working on anything other than the wire votive sleeves.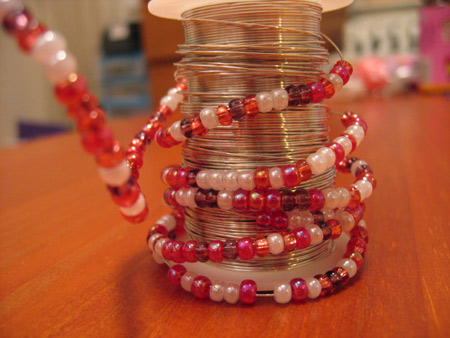 In fact, after I grandly announced the color scheme of the second sleeve, I quietly put the whole wire-knitting kit and caboodle away, and it hasn't seen the light of day since.
Jody is so right: "Life's too short. Knit what you love, and love what you're knitting." And I haven't been feeling an ounce of love for wire knitting since… well, since I knit my own votive sleeves!
I'm sure you've seen the 48 Things meme, and while I'm not going to be answering it, I'll tell you this much:
16. WHAT IS THE LEAST FAVORITE THING ABOUT YOURSELF?
Inability to force myself to do things I don't want to do.
At the same time, when one's mom oohs and aahs over a certain handknitted item, and specifically asks for her own, what's a knitter to do?!? Let's see – she generally doesn't wear handknits, and already has a shawl, the only thing she's ever asked me for, so how can I say, "no"? The venture is neither expensive, nor time consuming – just a few bucks and a few hours are enough for one of these puppies. I even have a Professional Bead Slipper at my disposal, who gently slips a bead towards my knitting every time I whine, "next!"
I'll be seeing my parents for Thanksgiving, and while I don't intend to push myself to any extremes, I am making a pseudo-promise: as long as I'm not dreading it too much, I will finish the other three votive sleeves for my parents by the time I see them. How's that for non-committal? Hahaha!
P.S. I just received my copy of Victorian Lace Today, and, OMG, my brain has stopped functioning! Sensory overload! People, there are such gorgeous, wearable patterns in there, I'm about to pee in my pants from excitement. Unfortunately, I had to send my copy back because it was damaged during shipment… but as soon as I have my replacement (1 week, give or take), I'll fire up the scanner and show you some goods.
0
likes